Image: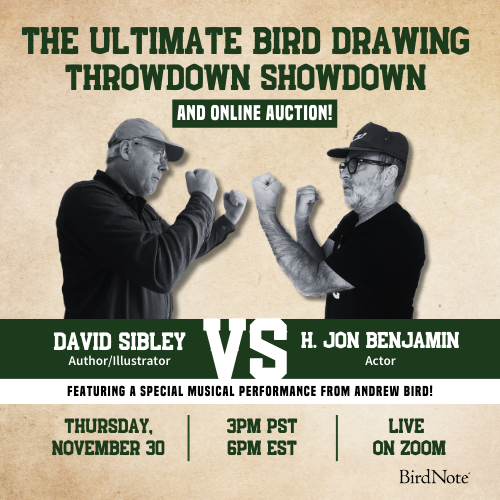 Join BirdNote tomorrow, November 30th!
Illustrator David Sibley and actor H. Jon Benjamin will face off in the bird illustration battle of the century during BirdNote's Year-end Celebration and Auction!
Bird nests can be hard to find, often hidden in plain sight. Is the clever camouflage simply the result of using building materials that the birds happen to find? A Scottish research team used birds popular in the pet trade, Zebra Finches, to try and find out. The team gave nesting Zebra Finches two sources of paper to build their nests from: one that matched the papered walls of their cage, and one that did not. By and large, the finches built nests that blended in with their background.
BirdNote ©
Birds, Nests, and Camouflage
By GrrlScientist

This is BirdNote.

[Calls of Zebra Finches]
Safety is everything for birds during breeding season. Of the eggs, the chicks and even the mother. So nests must be well hidden. [Calls of Zebra Finches]

In fact, nests often blend in so well with the background that they're very difficult to see. But do birds deliberately choose materials that camouflage their nests? To find out, a team of biologists from the University of St Andrews in Scotland studied male Zebra Finches — tiny Australian songbirds with smoky grey heads, stubby red beaks, orange cheeks, and black-and-white tails. Peaceful and friendly, they are popular both for research and as pets.[Songs produced by a group of Zebra Finches]

The scientists wallpapered the finches' cages with one color of paper. Then they gave the birds two differently colored materials to build their nests. For the most part, the finches chose to build with materials that matched the walls of their cages. But, many of the Zebra Finches also used small amounts of materials that weren't the same color as the walls. This suggests that the birds may have a second way to hide their nests — disruptive camouflage. The small pieces of nesting material that don't match the wallpaper break up the nest's visual outline, so it is less likely to catch a predator's eye.

Safety, it turns out, can sometimes be found in plain sight. For BirdNote, I'm Mary McCann.

###

Second set of featured bird sounds provided by The Macaulay Library of Natural Sounds at the Cornell Lab of Ornithology, Ithaca, New York. Zebra Finches [14414] recorded by Fritz Trillmich.
Other featured bird sounds, Zebra Finches 107925 at Quobba Station, recorded by Matthias Feursenger:
http://www.xeno-canto.org/species/Taeniopygia-guttata
BirdNote's theme music was composed and played by Nancy Rumbel and John Kessler.
Producer: John Kessler
Executive Producer: Dominic Black
© 2016 Tune In to Nature.org    January 2015/2016/2021 / July 2023 
Narrator: Mary McCann
ID#              nest-05-2021-1-8   nest-05