Image: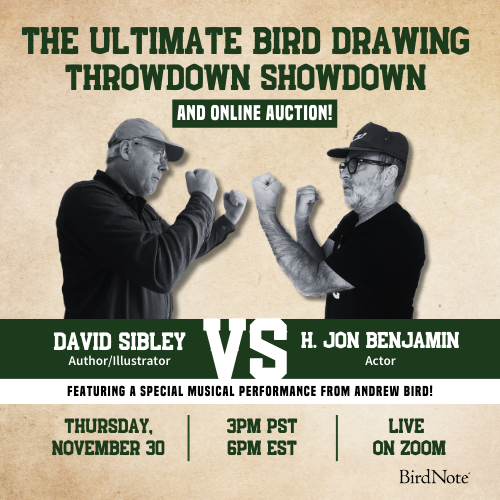 Join BirdNote tomorrow, November 30th!
Illustrator David Sibley and actor H. Jon Benjamin will face off in the bird illustration battle of the century during BirdNote's Year-end Celebration and Auction!
Birds have a highly efficient breathing anatomy that powers the exertion of flight. It is driven by large, thin-walled air sacs located throughout the body cavity that operate like bellows. This parabronchial system for extracting oxygen from the air has a far greater surface area than the lungs of a mammal, making sustained flight possible.
BirdNote®
To Breathe Like a Bird
Written by Bob Sundstrom
This is BirdNote.
[Sandhill Crane call ML 120249]
Even if you had feathers, lightweight bones, and powerful wings, you would still lack something essential to flying like a bird: the highly efficient breathing anatomy that powers the exertion of flight. 
[Sandhill Crane call ML 120249, fade to ML 2762]
The human apparatus of diaphragm and lungs is just not up to the job. It can't extract enough oxygen to fuel flight.
A bird's breathing anatomy is far more efficient than ours. It is driven by large, thin-walled air sacs located throughout the body cavity. The air sacs operate like  bellows, first storing and then directing air to create a one-way flow through the bird's lungs. 
This parabronchial system for extracting oxygen from the air has a far greater surface area than the lungs of a mammal, making sustained flight possible. And birds lack a diaphragm. Instead they inhale and exhale using special muscles that expand or contract the entire body cavity and air sacs.
The way they breathe allows migrating birds to fly in the thin air thousands of feet above the earth, a feat we can only marvel at from below.
[Sandhill Crane calls ML 2761]
For BirdNote, I'm Michael Stein.
###
Senior Producer: John Kessler
Production Manager: Allison Wilson
Producer: Mark Bramhill
Associate Producer: Ellen Blackstone
Digital Producer: Conor Gearin
Bird sounds provided by The Macaulay Library of Natural Sounds at the Cornell Lab of Ornithology, Ithaca, New York. Sandhill Crane ML120249 recorded by G. Keller, and Sandhill Crane ML 2761 and ML2762 recorded by AA Allen.
BirdNote's theme was composed and played by Nancy Rumbel and John Kessler.
© 2021 BirdNote    October 2021    Narrator: Michael Stein
ID# breathing-01-2021-10-27    breathing-01   
References:
https://asknature.org/strategy/respiratory-system-facilitates-efficient…
https://www.google.com/amp/s/www.birdwatchingdaily.com/news/science/eld…