Image: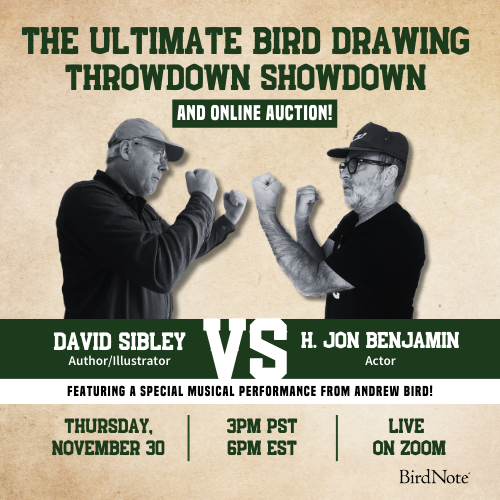 Join BirdNote tomorrow, November 30th!
Illustrator David Sibley and actor H. Jon Benjamin will face off in the bird illustration battle of the century during BirdNote's Year-end Celebration and Auction!
Exactly where are an owl's ears? Well, the eyes of this Great Gray Owl are set in a broad, dish-shaped face. Ridges of tiny hair-like feathers rim the owl's face, creating "facial disks." Just below the margins of the facial disks, concealed by feathers, are the openings to the owl's ears. The facial disk acts as a sound collector — like an old-fashioned ear trumpet — and guides sound to asymmetrically placed ears. There's always more to learn about owls' ears!
Sign up for the Weekly Preview to see photos for the week to come.
BirdNote®
The Ears of an Owl

Written by Bob Sundstrom
This is BirdNote!

[Great Gray Owl hoots]

Recently, BirdNote looked into the eyes of a Great Gray Owl, as we talked about the superlative vision of owls. In a moment, we'll turn to the owls' equally remarkable hearing.
The owl's large, yellow eyes are set in a broad, gray-feathered, dish-shaped face. Ridges of tiny hair-like feathers rim the owl's face, creating what are known as "facial disks." Just below the margins of the facial disks, concealed by feathers, are the openings to the owl's ears. The concave facial disk acts as a sound collector, like a parabolic microphone or an old-fashioned ear trumpet. [Great Gray Owl hoots]

The disk guides sound to the owl's asymmetrically placed ears: one ear-opening sits higher on the skull than the other. This enhances the owl's ability to pinpoint sounds in three-dimensional space. [Great Gray Owl hoots]

The Great Gray Owl hears the faintest sounds of unseen rodents — whether under a foot of snow or in the dark — and glides in on its unsuspecting prey, talons outstretched.

If you heard a fact in today's BirdNote show that you would like to follow up on, you can read the transcript of today's show — or any day's show — at our website, birdnote.org.

For BirdNote, I'm Michael Stein.

###

Call of the Great Gray Owl provided by The Macaulay Library of Natural Sounds at the Cornell Lab of Ornithology, Ithaca, New York. Male territorial call and female contact call recorded by L.J. Peyton.
BirdNote's theme music was composed and played by Nancy Rumbel and John Kessler.
Producer: John Kessler
Executive Producer: Chris Peterson
© 2014 Tune In to Nature.org     November 2014/2015     Narrator: Michael Stein
ID# 110706GGOW2-2KPLU owl-05b