Image: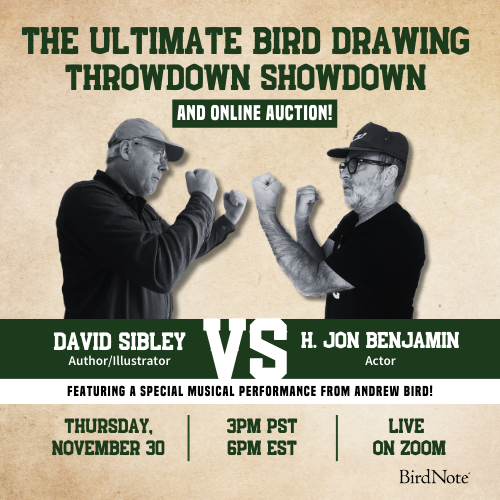 Join BirdNote tomorrow, November 30th!
Illustrator David Sibley and actor H. Jon Benjamin will face off in the bird illustration battle of the century during BirdNote's Year-end Celebration and Auction!
Long ago the tide stayed close to shore. The people went hungry because the clams lay hidden under water. Then Raven had a plan. He put on his cloak and flew along the shore to the house of the old woman who held the tide-line firmly in her hand. Raven fooled her, and she let go of the tide-line, and the tide rushed out. All the people joined Raven to feast on clams. Finally the old woman promised to let go of the tide-line twice each day. And that is how Raven made the tides.
BirdNote®
How Raven Made the Tide
Written by Frances Wood
This is BirdNote!
[Call of the Common Raven]
Northwest Coast Indians often focused on the Raven in their myths and legends. Here is a myth explaining how Raven made the tides.
Many years ago the tide did not come in and go out. The sea would stay up very high and close to shore. The people were often hungry because all the good clams and seaweed lay hidden under the water.
Raven decided to change that. He put on his cloak of black feathers and flew along the tide-line. [Raven call] After many miles, he came to the house of a very old woman. She was the reason the tide was close to shore, because she held the tide-line firmly in her hand.
Raven sat down next to her and said, "Ah, those clams were so good to eat."
"What clams?" demanded the old woman.
"The clams on the beach," Raven teased.
Then the woman jumped up to see the beach, and just then Raven pushed her down and threw dust in her eyes to blind her. She let go of the tide-line, and the tide rushed out.
All the people joined Raven to feast on clams and seaweed.
Finally Raven returned to the old woman to make a deal. He agreed to heal her eyes, if she would promise to let go of the tide-line twice each day.
And that is how Raven made the tides.
[Call of the Raven]
Would you like to introduce your friends to BirdNote? It's easy! Begin at our website, BirdNote.org.
###
Calls of the Common Raven provided by The Macaulay Library of Natural Sounds at the Cornell Lab of Ornithology, Ithaca, New York. Recorded by G.A. Keller
Ambient track recorded by C. Peterson on Lopez Island
Producer: John Kessler
Executive Producer: Chris Peterson
© 2013 Tune In to Nature.org   August 2017   Narrator: Michael Stein
ID#081205CORAKPLU                     CORA-01b