Image: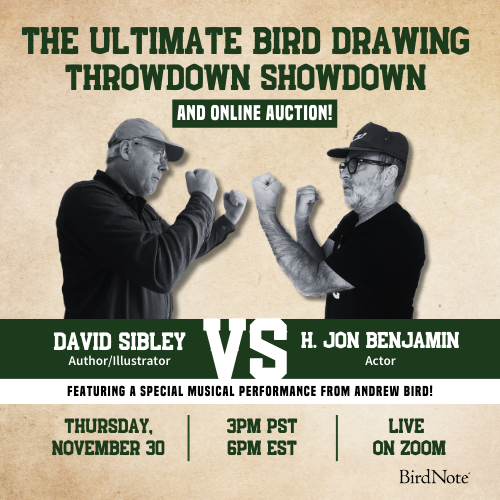 Join BirdNote tomorrow, November 30th!
Illustrator David Sibley and actor H. Jon Benjamin will face off in the bird illustration battle of the century during BirdNote's Year-end Celebration and Auction!
To help backyard birds through the winter, do less. Leave the leaves or rake them under plantings. The tasty insects and spiders underneath will be food for the towhee and this Song Sparrow. Don't deadhead. Pine Siskins and goldfinches love to snack on dead flowerheads. Make an insect hotel out of natural objects, flower pots, or other "found" items to create hidey holes for insects. They will become food for wrens and other birds.
BirdNote gives you the sounds of birds every day, and you can get the sights as well when you follow us on Instagram, at BirdNote radio. / @BirdNoteRadio
BirdNote® 
Leave the leaves, and other things you can do to help birds through the cold months
Written by Bob Sundstrom

This is BirdNote.
[Eastern Towhee https://macaulaylibrary.org/audio/197018, 1.08-1.12]
Some of the best ways to help backyard birds through the winter mean doing less, not more.
First, leave the leaves. Tasty insects and spiders live underneath. Backyard birds like the towhee and the Song Sparrow will pick and kick through leaves again and again [Song Sparrow https://macaulaylibrary.org/asset/70414851]. Leave them where they've drifted, or rake them up under your plantings.
Second, don't deadhead the plants in your garden. Birds like Pine Siskins and goldfinches love to snack on dead flowerheads all winter long. [Pine Siskins calling and Song Sparrow song, https://macaulaylibrary.org/audio/216764, 0.43-.46]
Number Three: build an insect hotel. Okay, there's some work involved in this one. But it's a cool project for kids and adults to do together. Make a structure out of natural objects and "found" items to create little hidey holes for insects. Some of these cozy hotel guests will become food for wrens and other birds.
[Bewick's Wren song with a bit of woodpecker drum at end, https://macaulaylibrary.org/audio/191106, 0.16-.19]
It's also a great way to repurpose old bricks and flower pots and bits of wood while creating your own sculpture.
So park the rake in the shed, and the clippers, too. The birds will thank you.
BirdNote gives you the sounds of birds every day, and you can get the sights as well when you follow us on Instagram, at BirdNote radio. / @BirdNoteRadio
                                        ###
Bird sounds provided by The Macaulay Library of Natural Sounds at the Cornell Lab of Ornithology, Ithaca, New York. Recorded by Bob McGuire, Paul Marvin and Wilbur L Hershberger.
BirdNote's theme music was composed and played by Nancy Rumbel and John Kessler.
Producer: John Kessler
Managing Producer: Jason Saul
Associate Producer: Ellen Blackstone
© 2017 Tune In to Nature.org  November 2019 / October 2022  Narrator: Michael Stein

ID#        garden-12-2017-11-09    garden-12