Image: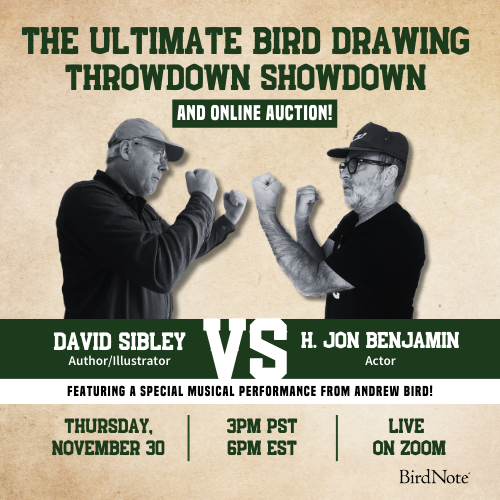 Join BirdNote tomorrow, November 30th!
Illustrator David Sibley and actor H. Jon Benjamin will face off in the bird illustration battle of the century during BirdNote's Year-end Celebration and Auction!
Black Scoters are sea ducks that spend the winter on saltwater bays. They are large, strong ducks and buoyant swimmers with a habit of cocking their tails upward. Black Scoters nest each summer on freshwater tundra ponds. Each fall, they can be found on bays all across the Northern Hemisphere. An unmistakable clue to their presence? - their mysterious, musical wail.
BirdNote®
The Music of Black Scoters
 
Written by Bob Sundstrom
This is BirdNote!

[Wailing notes of Black Scoters]

On a brisk November day, a mysterious wail carries across the lead-gray surface of a northern bay. [Wailing notes of Black Scoters]

The notes are drawn out, eerily musical, and can be heard from far away. [Wailing notes of Black Scoters]

You're hearing the call of a male Black Scoter [Wailing notes of Black Scoters in the background].

Black Scoters are sea ducks that spend the winter on saltwater bays. The unmistakable drake is feathered jet black, set off by a bright yellow knob atop its bill – a beacon on the dark water. The duck swimming alongside him, dark brown with a vivid brown and white face, is a female. Black Scoters are large, strong ducks, a foot and a half long, and buoyant swimmers with a habit of cocking their tails upward. [Wailing notes of Black Scoters]

Black Scoters return south from nesting on freshwater tundra ponds. Each fall, they can be found on bays all across the Northern Hemisphere. Through the colder months, these handsome, hardy ducks dive in search of mollusks, sea worms, and other prey. [Wailing notes of Black Scoters]

Watch for them along the shoreline where sea ducks gather, scattered among groups of goldeneyes and other scoters. An unmistakable clue to their presence? – that mysterious, musical wail. [Wailing notes of Black Scoters]
For BirdNote, I'm Michael Stein.

###

Call of the Black Scoter [130900] provided by The Macaulay Library at the Cornell Lab of Ornithology, Ithaca, New York. Recorded by G. Vyn.
BirdNote's theme music was composed and played by Nancy Rumbel and John Kessler.
Producer: John Kessler
Executive Producer: Chris Peterson
© 2015 Tune In to Nature.org     November 2014/2018/2021     Narrator: Michael Stein

ID# 112907BLSCKPLU   BLSC-01b