Image: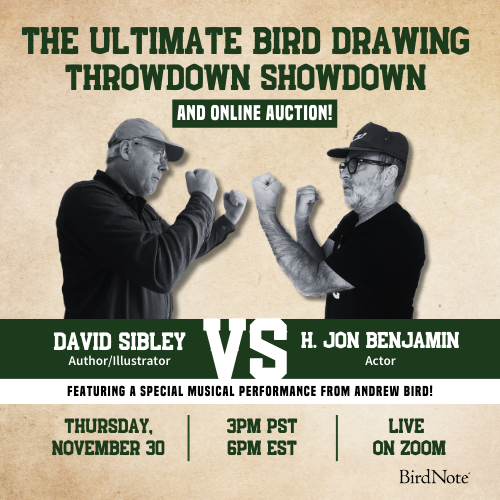 Join BirdNote tomorrow, November 30th!
Illustrator David Sibley and actor H. Jon Benjamin will face off in the bird illustration battle of the century during BirdNote's Year-end Celebration and Auction!
Hoping to attract hummingbirds to your yard or balcony? One way is to grow native plants. Native plants provide cover, and they offer nectar in spring and summer. They also attract insects, the most important part of a hummingbird's diet. Just add a source of water for drinking and bathing, and you'll have a hummingbird haven. This Anna's Hummingbird is feasting on red-flowering currant.
There's a lot we can do to help birds. Learn more at https://www.3billionbirds.org.
Special thanks to the Horizons Foundation for supporting BirdNote's participation in the #BringBirdsBack campaign.
BirdNote®

A Natural Feast for Hummingbirds

Written by Ellen Blackstone

This is BirdNote!

[Whirring of wings and chip call of Anna's Hummingbird]

This whir of wings must mean the hummingbirds are back. The Anna's Hummingbird spent the entire winter in the West and Northwest. Now, this feisty Rufous Hummingbird enters to stir things up. [Whirring of Rufous Hummingbird wings] Up the Eastern Seaboard and through the Midwest, Ruby-throats are arriving, day by day [rapid squeaky chips and wing hum of male Ruby-throated Hummingbird].
 
Broad-tailed Hummingbirds and others are northbound along the Rocky Mountains. And in the South and Southwest, more than a dozen species are back for the summer, including this Black-chinned Hummingbird. [Black-chinned Hummingbird wing whirs]

So how can you attract these feathered gems to your yard or balcony? [Black-chinned Hummingbird wing whirs] One way is to grow native plants with flowers of red, orange, or purple.

Native plants offer nectar in spring and summer, and they also attract insects – the most important part of a hummingbird's diet. Native plants also provide cover and a natural, sustainable habitat that welcomes birds to your yard. [Anna's Hummingbird wing whirs.] Just add a source of water for drinking and bathing, and you'll have a hummingbird haven.

Not sure where to start? We'll help you find the right plants for your part of the country. Begin at our website, BirdNote.org. I'm Mary McCann. [Whirring of hummingbird wings and call of Rufous Hummingbird]

###

Sounds for the hummingbirds were provided by the Macaulay Library of Natural Sounds at the Cornell Lab of Ornithology, Ithaca, New York. Anna's Hummingbird recorded by A.A. Allen; Rufous Hummingbird recorded by G.A. Keller. wing whir and calls of Ruby-throated Hummingbird recorded by R.S. Little; Black-chinned wings 60121 by W.W. H. Gunn; ambient taken from Common Yellowthroat track recorded by W.L. Hershberger 79476
Producer: John Kessler
Executive Producer: Chris Peterson
© 2015 Tune In to Nature.org      April 2017/2020 / March 2023
Narrator: Mary McCann

ID# garden-01b-2020-4-25          garden-01b