Image: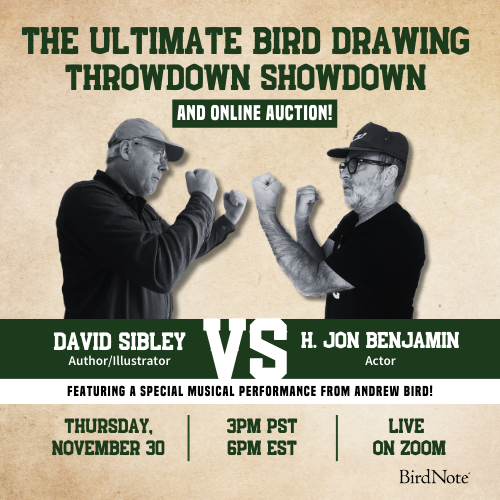 Join BirdNote tomorrow, November 30th!
Illustrator David Sibley and actor H. Jon Benjamin will face off in the bird illustration battle of the century during BirdNote's Year-end Celebration and Auction!
Want to try building a nest? Consider this... An average American Robin weighs less than three ounces. An average person weighs 170 pounds, or 1,000 times as much as a robin. A robin's nest, made of grass and mud, weighs about seven ounces, so yours will weigh 450 pounds. You'll need to collect about 350 strands of grass, each about four feet long. And don't forget the mud: 150 pounds of it. You have five days to complete the job. That's 300 mouthfuls of mud.
BirdNote®
Nest Building -
What It Takes to Build a Nest
Written by Bob Sundstrom
This is BirdNote!
    Wouldn't it be great to change places with a bird? To fly freely, to perch on the highest branch – even to share the joys of building a nest!
    Just like that, your wish is granted. You switch places with a robin. [American Robin song] The flying part is fun, but there's work to do – there's a nest to build.
    What would be the human-sized equivalent of a robin's nest?
    An average robin weighs less than three ounces. Let's say an average person weighs 170 pounds, or 1,000 times as much as a robin. [American Robin song]
    A robin's nest, made of grass and mud, weighs about seven ounces, so yours will weigh 450 pounds. You'll need to collect about 350 strands of grass, each about four feet long. And don't forget the mud: 150 pounds of it. You have five days to complete the job. [American Robin song]
    Of course, being a robin, you'll have to carry all these materials in your beak.
That's 300 mouthfuls of mud.
    On second thought, maybe you'd rather switch places with a plover, and just rearrange pebbles on the ground to create a nest. [A few Killdeer calls]
    Learn a lot more about nests and even peer into one via a webcam. It's all on our website, BirdNote.org. I'm Michael Stein.
                                                                            ###

Bird audio provided by The Macaulay Library at the Cornell Lab of Ornithology, Ithaca, New York.  American Robin song recorded by W.L. Hershberger.  Killdeer calls recorded by G.A. Keller.
Ambient audio recorded by C. Peterson.
Music: "Superman (Main Theme)" London Symphony Orchestra & Roderick Dunk
Reader's Digest Music: Hollywood Fantasy & Science Fiction Classics: 2005.
Producer: John Kessler
Executive Producer: Chris Peterson
© 2014 Tune In to Nature.org      June 2017/April 2023   
Narrator: Michael Stein

ID# nest-03b-2017-6-3           nest-03b

[Data on American Robin nests from Journey North website.]