Image: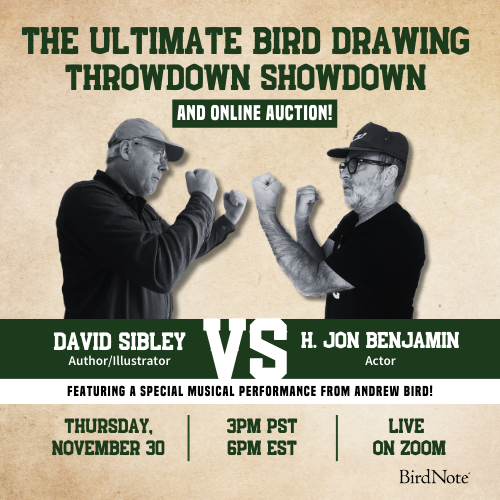 Join BirdNote tomorrow, November 30th!
Illustrator David Sibley and actor H. Jon Benjamin will face off in the bird illustration battle of the century during BirdNote's Year-end Celebration and Auction!
October is the perfect time to plant for the benefit of next year's birds, including this Cedar Waxwing. Your new plants will put their resources into their roots rather than leaves or flowers. And the season's reliable rain will reduce the need to water. To attract the greatest variety of birds to your landscape, plant native shrubs that produce fruits and berries and provide a safe refuge for winged visitors. Learn what to plant in your yard at Audubon.org.
BirdNote®
October Planting for Wildlife
Written by Bob Sundstrom
This is BirdNote!
 October's rain and cooler weather tell us that summer is truly over. The caroling of robins [American Robin song] gives way to the clamor of migratory Canada Geese. [Canada Goose calls].
 This is the perfect moment to think ahead to the birds and greenery of next spring and summer. October is an ideal time to plant for the benefit of next year's birds. [Sound of shoveling]
 Plant in the fall, and you'll also minimize the stress on plants as they move from pots to the landscape. In October, your new plants will put their resources into their roots rather than leaves or flowers, just what you want to get them going happily in a new location. You won't see much going on above ground, but a lot is happening down in the soil.
 Autumn's cooler weather makes it a pleasant time to work outside. [Sounds of raking]  And the season's reliable rain will reduce the time and expense devoted to watering. [Sounds of watering]
 So what's good to plant this month? To attract the greatest variety of birds to your landscape year 'round, plant native shrubs—ones that produce small berries and provide a safe refuge for winged visitors. [American Robin song]
 Learn more about gardening for wildlife—especially birds—on our web site, BirdNote.org.
###
Bird audio provided by The Macaulay Library at the Cornell Lab of Ornithology, Ithaca, New York. American Robin song recorded by W.L. Hershberger.  Snow Goose calls recorded by W.W.H. Gunn.  Ambient track with Song Sparrow song recorded by G.A. Keller.
Ambient gardening sounds by Kessler Productions
Producer: John Kessler
Executive Producer: Chris Peterson
© 2012 Tune In to Nature.org     October 2012     Narrator: Frank Corrado
ID# 100507planting           garden-05-FCr