Image: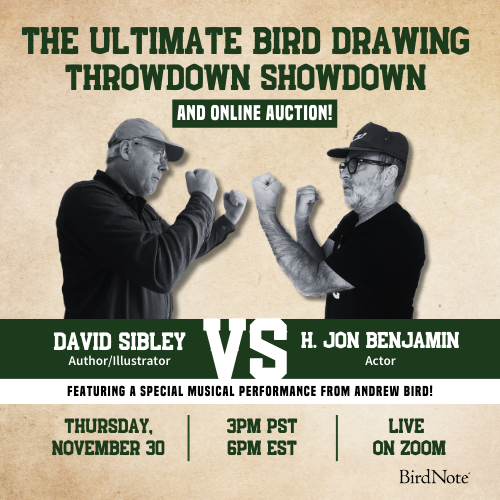 Join BirdNote tomorrow, November 30th!
Illustrator David Sibley and actor H. Jon Benjamin will face off in the bird illustration battle of the century during BirdNote's Year-end Celebration and Auction!
A clean feeder is a life-and-death matter to some birds. To protect the birds at your feeder, clean it at least once a week, more often if necessary. Rake the ground underneath, too. Pine Siskins are especially prone to salmonellosis, a bacterial disease. You can learn more about feeding backyard birds at Cornell's AllAboutBirds. California Partners in Flight has more suggestions about feeding birds safely!
BirdNote®
Responsible Birdfeeding
Written by Ellen Blackstone
This is BirdNote!

[Pine Siskins chattering and bickering] 

Hear that? It's the chatter of hungry Pine Siskins at a thistle feeder. [More chatter]

Putting out a feeder is easy. The next step may be a challenge, but it's the most important part — keeping it clean and free of disease. [Ambient, Black-capped Chickadees]

A clean feeder is a life-and-death matter to some birds. Pine Siskins, in particular, are prone to salmonellosis [sal-mun-uh-LO-sis], a deadly bacterial disease easily transmitted from bird to bird. For this reason, a thistle feeder shouldn't have a tray.

Clean your feeder at least once a week, more often if you have lots of birds eating from it. You may want to have an extra feeder – one feeds the birds, while the other is being cleaned and dried. Also, take time to rake up and dispose of seeds underneath the feeder every few days. [More chatter of Pine Siskins]

Birds are fussy. This bird wants sunflower seeds, and another wants millet. [More chatter of Pine Siskins] They'll simply toss any seed they don't like – what a waste! You can attract specific birds — and minimize the waste — by choosing the right food and the right feeder.

Learn what foods attract what birds, and especially how to protect those birds when they visit — at our website, birdnote.org. I'm Mary McCann. [Chatter of Pine Siskins]

###

Call of the Pine Siskin provided by The Macaulay Library of Natural Sounds at the Cornell Lab of Ornithology, Ithaca, New York. Recorded by G.A. Keller. Black-capped Chickadee by S.R. Pantle.
BirdNote's theme music was composed and played by Nancy Rumbel and John Kessler.
Producer: John Kessler
Executive Producer: Chris Peterson
© 2015 Tune In to Nature.org      September 2013/2016/2019 / March 2023
Narrator: Mary McCann
ID#feeder-01b-2019-9-13    feeder-01b