Image: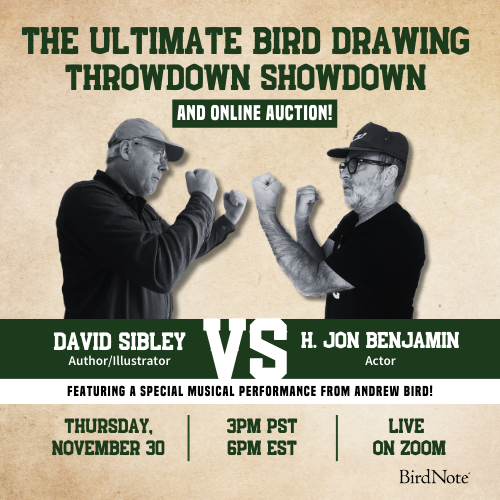 Join BirdNote tomorrow, November 30th!
Illustrator David Sibley and actor H. Jon Benjamin will face off in the bird illustration battle of the century during BirdNote's Year-end Celebration and Auction!
A beautiful Rose-breasted Cockatoo named Harri took the adventure of a lifetime. She set off unseen on a cruise ship from Brisbane, Australia, and wasn't discovered until the ship neared New Zealand. Authorities there were not happy to see Harri, whose species is the bane of farmers in her native Australia, and they threatened to euthanize her if she wasn't properly locked up. The ship's officers gave Harri her own luxury cabin, and she was reunited with her family two weeks later.
Subscribe to the BirdNote podcast, featuring special extended episodes we can't fit on the radio. Just search "BirdNote" in Apple Podcasts.
BirdNote®
Stowaway Cockatoo Takes a Cruise
Written by Bob Sundstrom

Parrots ... on ships? It seems nearly every pirate captain in the movies had one.

But the parrot in this story went to sea on her own. Harri, a beautiful Rose-breasted Cockatoo — or Galah as they are best known — set off unseen on a cruise ship from Brisbane, Australia. The colorful, 15-inch-long bird was discovered 1,400 miles later, as the ship neared New Zealand.

[Galah calls, https://macaulaylibrary.org/asset/31675741 , 0.02-.08]

The authorities wanted no part of Harri. Although lovely to look at, with rosy pink underparts, pale pink crest, and a silver back, Galahs aren't native to New Zealand. In their Australian homeland, they form huge flocks that make farmers' lives miserable.

[Galahs calling, https://www.xeno-canto.org/187679 ].

The authorities gave the cruise officers two choices: keep Harri well secured on board —  or euthanize her.

The ship's officers opted to keep a close eye on Harri, and she lived a contented life in a deluxe cabin for the remainder of the 14-day cruise. One of the quarantine officers discovered that Harri had an embedded microchip ID. So when the ship docked back in Australia, Harri's grateful family was able to greet her as she was escorted off.

The stowaway cockatoo was none the worse for wear except, as the cruise ship captain acknowledged, "Like all passengers, she has gained some weight."

For BirdNote, I'm Mary McCann.
Subscribe to the BirdNote podcast, including special extended podcasts we can't fit on the radio. Just search "birdnote" in Apple podcasts.
###
 
Bird sounds provided by The Macaulay Library of Natural Sounds at the Cornell Lab of Ornithology, Ithaca, New York. Recorded by Andrew Spencer. Ship SFX J Kessler.
Additional sounds provided by the Xeno-canto Foundation. Recorded by Nick Talbot.
BirdNote's theme music was composed and played by Nancy Rumbel and John Kessler.
Producer: John Kessler
Managing Producer: Jason Saul
Associate Producer: Ellen Blackstone
© 2018 Tune In to Nature.org   October 2018/2019   Narrator: Mary McCann
 
ID# ROBRCO-01-2018-10-25   ROBRCO-01

https://www.theaustralian.com.au/news/nation/harri-the-stowaway-galah-r…

https://www.google.com/amp/s/amp.theguardian.com/world/2018/jan/31/stow…