Image: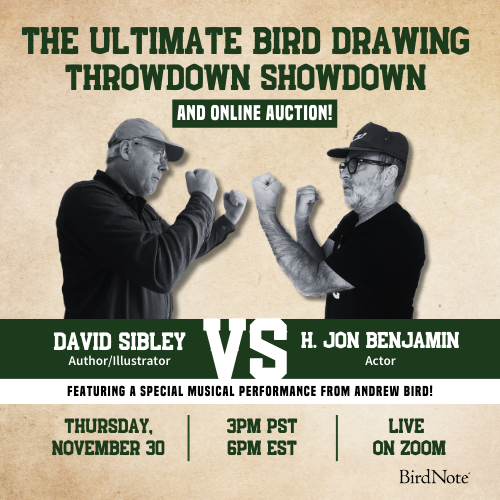 Join BirdNote tomorrow, November 30th!
Illustrator David Sibley and actor H. Jon Benjamin will face off in the bird illustration battle of the century during BirdNote's Year-end Celebration and Auction!
Summer Tanagers snatch bees and wasps in mid-air, as they buzz about. Bug in beak, the bird flies to a perch, slams the insect against a branch until it's dead, then wipes it against the branch to remove the stinger before eating it. Summer Tanagers will also tear open paper-like wasp nests to dine on the larvae within. The migratory birds will also eat other insects and spiders, as well as fruits and berries in the summer and over the winter.
BirdNote®
Summer Tanagers: Wasp Hunters
Written by Bob Sundstrom
 
This is BirdNote.
If you've ever been stung, you'll agree that it's wise to respect wasps and bees. Watch stinging insects with a keen eye—but from a safe distance.
Birds like Summer Tanagers also watch bees and wasps with a keen eye. But that's because... they plan to eat them.
(https://macaulaylibrary.org/asset/213799)
The Summer Tanager snatches bees and wasps in mid-air, as they buzz about. Bug in beak, the bird flies to a perch, slams the insect against a branch until it's dead, then wipes it against the branch to remove the stinger before eating it.
Wasp larvae are also featured on the Summer Tanager's menu. After chasing off or killing the adult wasps attending a nest, a tanager tears open the delicate, paper-like structure and devours the larvae within.
(Summer Tanager call, https://macaulaylibrary.org/asset/213799)
While stinging insects are a central part of their diet, tanagers also hunt grasshoppers, beetles, dragonflies, and spiders. Fruits and berries become important in their diet in late summer, during migration, and where they winter in Central and South America.
But when the birds return each spring to their breeding range in the Southeast, lower Midwest, and Southwest, bees and wasps once again face their nemesis in the Summer Tanager.
(Summer Tanager song, https://macaulaylibrary.org/asset/213799)
For BirdNote, I'm Michael Stein.

                                                                               ###
Bird sounds provided by The Macaulay Library of Natural Sounds at the Cornell Lab of Ornithology, Ithaca, New York. Recorded by Bob McGuire.
BirdNote's theme music was composed and played by Nancy Rumbel and John Kessler.
Producer: John Kessler
Managing Producer: Jason Saul
Associate Producer: Ellen Blackstone
© 2018 Tune In to Nature.org   June 2018 / July 2022   Narrator: Michael Stein

ID# SUTA-01-2018-06-27        SUTA-01