Image: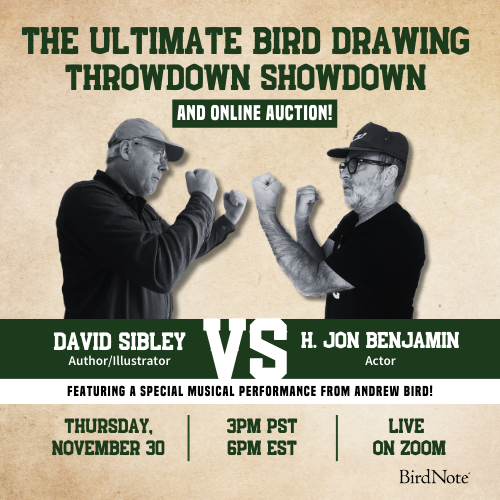 Join BirdNote tomorrow, November 30th!
Illustrator David Sibley and actor H. Jon Benjamin will face off in the bird illustration battle of the century during BirdNote's Year-end Celebration and Auction!
The Merlin Bird ID smartphone app from the Cornell Lab of Ornithology is a free, easy way to help you identify new birds. The app asks a series of simple questions and offers a list of possible birds, along with photos and sounds, to help your identification. The app draws from millions of bird sightings people are uploading to a massive community science project called eBird.
You can find a photo of today's bird — and every day's bird — on Facebook, Twitter and Instagram. Just search for BirdNote.
BirdNote®
Using the Merlin Bird ID App
Written by Jason Saul

[BirdNote Theme]

[Spotted Towhee call https://macaulaylibrary.org/asset/44933 ]

This is BirdNote. I'm Liz Felix.

I am looking at a funny kind of "robin" I have never seen before.

[Towhee calls https://macaulaylibrary.org/asset/44933 ]

BirdNote listeners know better than anybody there are a lot of birds out there! Birds can look very different depending on where you live and what season it is. I just moved to a new state, and this is one weird-looking robin.

[Towhee calls https://macaulaylibrary.org/asset/44933 ]

[American Crow https://macaulaylibrary.org/asset/100700 ]

I don't have a bird book on me... but I do have the Merlin Bird ID app on my phone.

[Towhee calls https://macaulaylibrary.org/asset/44933 ]

Okay. I pick my location and the date.

[look at the phone and type it in]

I am in Seattle, and right now it's the fall. The bird is about sparrow- to robin-sized, it's on the ground, and the three main colors are… let's see, it's got a *black head, *reddish sides, and a *white chest and belly… And... here we go.

[screen tap sound]

Merlin works by pulling together millions of bird sightings that people have uploaded through another* app, called eBird.

So, what new bird did I find? Merlin says it might be -- a Spotted Towhee? Ok, let's check and hear what it sounds like:

[Towhee song from the app -  https://macaulaylibrary.org/asset/44933 ]

That's my bird! Merlin is free on iPhone and Android.

For BirdNote, I'm Liz Felix.
###
Bird sounds provided by The Macaulay Library of Natural Sounds at the Cornell Lab of Ornithology, Ithaca, New York. Recorded by Geoffrey A. Keller and Wil Hershberger.
BirdNote's theme music was composed and played by Nancy Rumbel and John Kessler.
Producer: John Kessler
Managing Producer: Jason Saul
Associate Producer: Ellen Blackstone
© 2018 Tune In to Nature.org   October 2018/2019   Narrator: Liz Felix
 
ID#  merlinapp-01-2018-10-11   merlinapp-01