Image: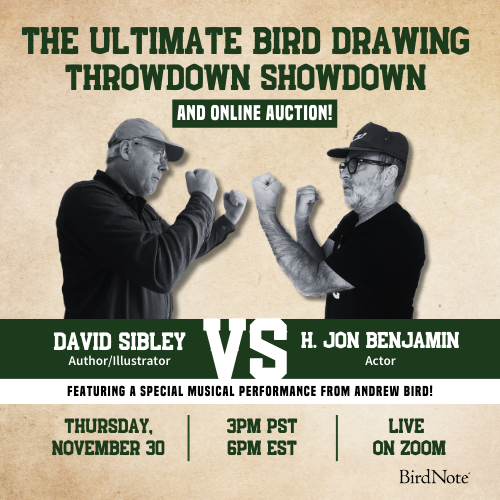 Join BirdNote tomorrow, November 30th!
Illustrator David Sibley and actor H. Jon Benjamin will face off in the bird illustration battle of the century during BirdNote's Year-end Celebration and Auction!
Why does the American Dipper dip? One possibility is that the dipper's repetitive bobbing, against a background of turbulent water, helps conceal the bird's image from predators. A second theory asserts that dipping helps the bird spot prey beneath the surface of the water. But this theory about why dippers dip holds the most promise: Dipping may be a mode of visual communication between these birds in their noisy environment.
Support for BirdNote comes from the Cornell Lab of Ornithology, offering online courses about birding. With a new nature journaling course at Academy.AllAboutBirds.org.
BirdNote®
Why Do Dippers Dip?
Written by Bob Sundstrom

This is BirdNote.

[Song of the American Dipper]

An American Dipper calls across a rushing mountain stream. It's a rotund little bird, with a stone-gray body that bobs rhythmically up and down, as if mounted on springs. But its feet are firmly planted on rocks just beneath the rolling water.
 
[Repeat American Dipper song]

Why do dippers dip? Let's consider three theories:

Theory one: The dipping motion sort of camouflages the dipper against the turbulent water, making it harder for predators to spot it.

Theory two: dipping helps the dipper see prey beneath the surface of the water.

Or theory three, which might be the most likely: dipping – as well as the rhythmic flicking of the dipper's flashy white eyelids – may be a way of using body language to communicate, since rushing rivers can be so noisy they drown out bird calls.

[Sound of rushing water on a mountain stream]

So if one day, as you muse by a mountain stream, you spot an American Dipper bobbing and winking in your direction, don't take it personally. It's probably beckoning to another dipper upstream.

For BirdNote, I'm Michael Stein.

Support for BirdNote comes from the Cornell Lab of Ornithology, offering online courses about birding. With a new nature journaling course at academy dot all about birds dot org.

###
Producer: John Kessler
Managing Producer: Jason Saul
Editor: Ashley Ahearn
Associate Producer: Ellen Blackstone
Assistant Producer: Mark Bramhill
Narrator: Michael Stein
Song of the American Dipper and Riparian Zone Nature SFXs #119 and # 17 recorded by Gordon Hempton of QuietPlanet.com. Additional stream ambient recorded by C. Peterson
© 2019 BirdNote   September 2016 / 2019   Narrator: Michael Stein

ID#091205AMDIKPLU    AMDI-02c