Image: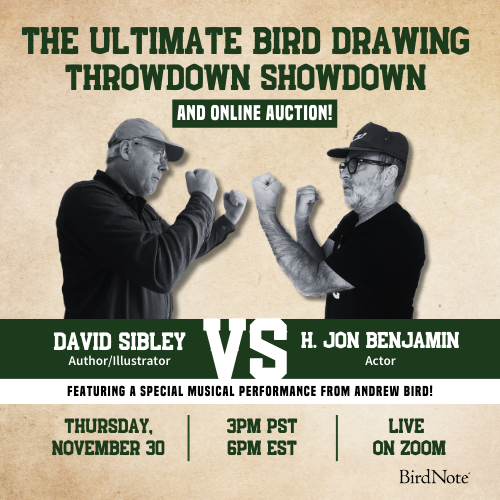 Join BirdNote tomorrow, November 30th!
Illustrator David Sibley and actor H. Jon Benjamin will face off in the bird illustration battle of the century during BirdNote's Year-end Celebration and Auction!
Las reinitas rojas solo cantan en las mañanas soleadas durante la temporada de anidamiento –así que escucharlas cantar es tan bueno como revisar el pronóstico del tiempo. Pesando menos que una batería triple A, las reinitas rojas son endémicas de México y viven en los bosques húmedos de pinos, robles y abetos.
Listen to this episode in English here.
BirdNote®
Reinita Roja: La monarca escarlata de México
Escrito por Paula Vilella
Esto es BirdNote.
    [Canto]
Si sabes cómo reconocerla, la canción de la reinita roja es todo lo que necesitas para saber si el día será claro. Ni siquiera necesitas salir de tu cama o checar el pronóstico del clima. Durante su temporada de reproducción, entre febrero y mayo, cantan alegres en las mañanas soleadas. Pero si está nublado, no cantarán, sin importar la temporada.
         [Silencio abrupto]
Así es como se escucha una mañana soleada:
[Canto]
Las reinitas rojas son mucho más pequeñas de lo que puedes imaginar: miden menos de 13 centímetros de largo y pesan apenas unos 9 gramos, menos que una batería AAA.
[Trino]
Son aves endémicas del altiplano de México. Así que para escucharlas, tendrás que aventurarte dentro de los bosques húmedos de pino, roble y abeto. Aunque puedes avistar a las reinitas rojas en buena parte del territorio mexicano, no viajan entre estados.
[Trinos]
En cuanto al cuidado de sus crías, ambos padres cuidan de sus polluelos. Pero solo se acercan a sus nidos unos cuántos segundos para evitar atraer a los depredadores. Y este es solo uno de sus trucos de supervivencia. Aunque hay evidencia de una pequeña disminución en su población, no es drástica. Afortunadamente tendremos a nuestras pequeñas estaciones metereológicas despertándonos por mucho tiempo.
Para BirdNote, soy Javier Bravo.
###

Productor senior: John Kessler
Productor: Mark Bramhill
Editor en jefe: Jazzi Johnson
Productor en jefe: Conor Gearin
Director de contenido: Jonese Franklin
Los sonidos de aves fueron proporcionados por la Biblioteca Macaulay de Sonidos Naturales del Laboratorio de Ornitología de Cornell, Ithaca, Nueva York. Reinita Roja ML289316 grabado por Peter Boesman, Reinita Roja ML559704961 grabado por Isain Contreras, y Reinita Roja ML153847541 y ML153846261 grabado por Jay McGowan.
El tema musical de BirdNote fue compuesto e interpretado por Nancy Rumbel y John Kessler.
© 2023 BirdNote Noviembre 2023
Narrator: Javier Bravo
ID# REWA-01-ESP-2023-11-21        REWA-01-ESP
Photo © Bradley Hacker CC (BirdNote en Español logo added by BirdNote)