BirdNote Ringtone
As of September 1, 2016, we have excluded the BirdNote theme music in shows produced for the podcast or other forms of digital distribution, including shows at www.birdnote.org. We made this change in response to feedback from online listeners, who often listen to several BirdNote shows in succession.
The music will still precede BirdNote shows broadcast on radio stations.
You can listen to it as much as you want on SoundCloud. If you just can't get enough of the BirdNote theme music, be sure to download the ringtone. Here's how:

Before beginning, it's a good idea to update iTunes to the latest version on your computer.

First, download the .m4r file of the theme song ringtone. (Click here, and then click Save.)
[Some web browsers, Safari in particular, may be set to play the ringtone music instead of downloading the file. If that is happening to you, hold down the Alt/Option key and then click the link. The file will download.]

Open iTunes. Click on the BirdNote ringtone m4r file, drag it into the iTunes window, and release.

Plug your phone into your computer. Click the small phone icon in the upper left (see illustration) --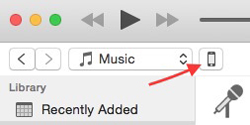 -- to make your iPhone appear in the active window. Click Tones in the lefthand column, and you should see the BirdNote ringtone in the list of installed ringtones. (You may need to put a checkmark in the box by Sync Tones.)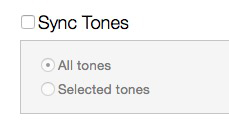 Choose Selected Tones. Put a checkmark in the box by BirdNote_ringtone. Click Done, bottom right.
Sync your phone, and enjoy the BirdNote theme.
Have an Android Phone?
Find directions here.
Additional iPhone walk-through tips here.
If you just can't make this work, please email info@birdnote.org with RINGTONE in the subject line. We'll help you however we can.
And thanks for listening!
###
Learn more about the creation of the BirdNote theme song, composed and played by Nancy Rumbel and John Kessler.
Save
Save
Save
Save
Save
Save
Save
Save
Save
Save
Save
Save
Save
Save