Image: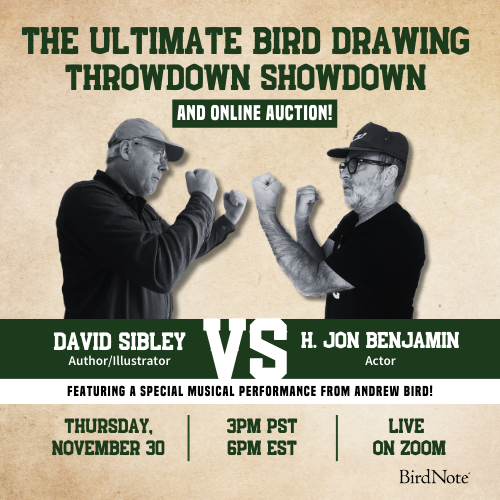 Join BirdNote tomorrow, November 30th!
Illustrator David Sibley and actor H. Jon Benjamin will face off in the bird illustration battle of the century during BirdNote's Year-end Celebration and Auction!
BirdNote is occasionally asked about our travel program -- if it's ethical to travel, with the climate warming around us. Senior science advisor Gordon Orians offers these thoughts:
Most of us have enjoyed traveling to some of the great and wonderful places on Earth, rich in scenery and biodiversity. Yet, today most of us are conflicted. On the one hand, we are trying to reduce our carbon footprint, knowing that reducing it is necessary to avoid serious, potentially catastrophic, climate warming. On the other hand, we know that the ecologically rich places we visit will be lost if the income they generate from ecotourists were greatly diminished. "To travel or not to travel" is a difficult question to answer! Can we have it both ways? How should we evaluate these difficult trade-offs?
To try to answer these questions, we need to consider a number of things, both positive and negative. Let's start with the benefits of ecotourism.  
Despite the availability of a rich variety of environmental programs on television, nothing compares with a direct experience of nature. Being approached by a gorilla troop, led by a striking silverback male, generates emotions not offered by television. The same is true of approaching a bison herd on the Northern Great Plains. Such rich emotional experiences, in addition to their intrinsic value, generate awareness and concern not stimulated any other way. And such awareness and concern lead to actions that otherwise would not happen ... stewardship and conservation action. 
The lands and waters that support Earth's ecological treasures typically have economically valuable alternative uses. The trunks of many tropical trees are potentially valuable lumber. Grasslands are rich agricultural lands, the soils of which were actually generated by the grasses growing on them for thousands of years. Coral reefs abound with harvestable fishes.These alternative uses of the lands and waters will determine what happens to those places if they do not pay for themselves via tourist dollars. With guards gone, poachers quickly invade parks and reserves to kill unwary, easily harvested animals. Ecotourism dollars generate local employment and can be sources of pride for local people. "What we have is so important that people come from all over the world to see it!"
Loss of biodiversity also raises deep ethical and moral issues. All species and the ecosystems that support them are the unique results of evolutionary processes unfolding over millions of years. If lost, they are as irreplaceable as a Beethoven symphony or a Rembrandt painting. What does it say about us if we allow them to be lost when we might have acted to save them? Our answers to these questions, whether based on religious or secular beliefs, reveal much about how we value our relations with the millions of species that share the planet with us.
Combined, these facts offer strong reasons for expanding our carbon footprint even when we are aware of the climatic consequences of doing so. Are there ways we can reduce our carbon footprints while we enjoy the pleasure of witnessing these remarkable places first-hand? Fortunately, the answer is a partial "Yes."
We can preferentially book travel with companies that take special care to reduce their carbon footprint. We can purchase carbon offsets. We can combine excursions so that we need to travel only once for multiple trips.  
We have to find ways to reduce the pressure we put on the planet just by our sheer numbers. We can support organizations engaged in environmental conservation and restoration, knowing that Earth's ecosystems have great restorative capacities that will emerge if given a chance. And we can support leaders who share our environment values.
Although these are among the things that we can do to reduce our carbon footprint while we continue to enjoy visiting Earth's wonderful places, we need to recognize that there are no silver bullets. Like liberty, whose preservation requires eternal vigilance, caring for the planet on which we live is also a never-ending task. The good news is that we can have rich experiences while we do it.
###
Check out these BirdNote stories about several special places that have benefited from thoughtful ecotourism:
Ecotourism - Hiring a Local Guide Can Be Win-Win-Win
Ecuador's Nature Reserves Protect Special Habitat
El Triunfo - A Conservation Success
Waking to Howler Monkeys - Ecotourism in Costa Rica
Pride of Place Protects St. Lucia Parrots
Sandhill Cranes Bring Economic Benefit to the Platte