Image: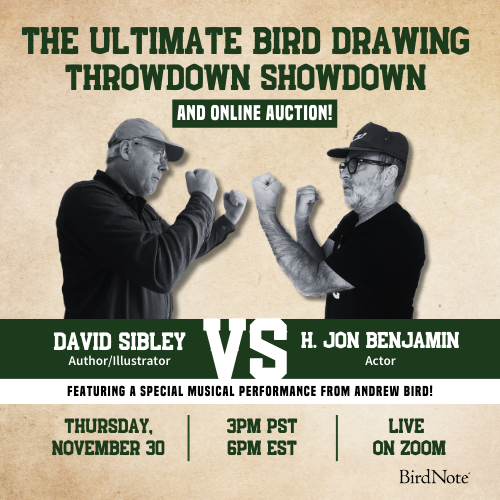 Join BirdNote tomorrow, November 30th!
Illustrator David Sibley and actor H. Jon Benjamin will face off in the bird illustration battle of the century during BirdNote's Year-end Celebration and Auction!
Chandler Robbins, July 17, 1918 – March 20, 2017
A Long Life, Well Lived
A tribute by Rick Wright
USFWS Midway
In December 1956, on the remote south Pacific atoll of Midway, a US Geological Survey ornithologist banded a female Laysan Albatross.
Wisdom, as she has come to be known, is still alive more than six decades later, and in February 2017, at least 66 years old, she hatched another chick. That makes more than 40 she has contributed to the population of her globally vulnerable species.

The young scientist who banded her was Chandler S. Robbins, one of the true greats in American birding and field ornithology. Robbins died, at the age of 98, on March 20, 2017. But like Wisdom and her progeny, Robbins's contributions to his globally vulnerable species wing onward.
It is thanks to Chan Robbins that we have the breeding bird survey, a priceless record of 50 years of population trends. It is thanks to Chan Robbins that nearly a century of arrival and departure dates from across the continent have been digitized for the North American phenology program.
Barbara Dowell USGS
Robbins was a pioneer in the study of forest fragmentation and its effects on breeding birds, and his early work on pesticides was vital to the eventual ban of DDT in the United States. Populations of Peregrine Falcons and many other birds of prey, along with pelicans and many songbirds, rebounded.
To my generation, though, Robbins will always be the author of the beloved Golden Guide. Published in 1966, this was the first field guide to give the Peterson series a run for its substantial money.

Its appealing paintings by Arthur Singer faced the text rather than being clustered into a section of their own, setting the standard for virtually every title to follow.
Most forward-looking of all, Robbins' guide included sonograms for most species, along with instructions for reading those graphic representations of songs and calls – an idea that has only now, half a century later, caught on, but one that even on its own would have guaranteed Chan Robbins a place in the birder's pantheon.
The death of a community leader is a time to mourn. But in this case, it is also an opportunity for gratitude for what this scientist, birder, and genuine gentleman has done for the birds and for those of us who love them.
###
Bird sounds provided by The Macaulay Library of Natural Sounds at the Cornell Lab of Ornithology, Ithaca, New York. Laysan Albatross [32567] recorded by Chandler S. Robbins
Save
Save
Save
Save
Save
Save
Save
Save
Save
Save
Save
Save
Save
Save
Save
Save
Save
Save
Save
Save
Save
Save
Save
Save
Save
Save
Save
Save
Save
Save
Save
Save
Save
Save
Save