Image: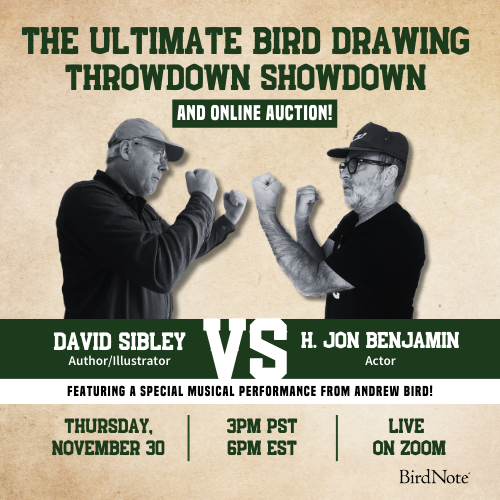 Join BirdNote tomorrow, November 30th!
Illustrator David Sibley and actor H. Jon Benjamin will face off in the bird illustration battle of the century during BirdNote's Year-end Celebration and Auction!
On the Skagit Flats, an hour north of Seattle, dramatic scenes of wildlife unfold every winter. "The flats" are broad, level deltas where the river drains into Skagit Bay. They offer a wildlife panorama with few equals in North America. Immense Bald Eagles stand ready to give chase for a winter meal. Nearby, a flock of nearly 10,000 Snow Geese blankets the ground... Consider a visit!
BirdNote®
An Adventure on the Skagit in Winter
Adapted from Bob Sundstrom
 This is BirdNote!
 [Trumpeter Swans calling]
Come with me today to the Skagit Flats, an hour north of Seattle, where dramatic scenes of wildlife unfold every winter. "The flats" are broad, level deltas where the river drains into Skagit Bay. Mostly open farm fields, the flats offer a wildlife panorama with few equals in North America.
We're just getting out of the car, and already a "V" of Trumpeter Swans flies overhead.  [Trumpeter Swans flying – the sound of the wings]
The wings of these snow-white behemoths span nearly seven feet. 
Every direction we look, immense Bald Eagles stand ready to give chase for a winter meal. [Bald Eagle cries] There's some on the utility poles, some more in open fields; a dozen eagles share a view of the bay from the same cottonwood tree.
Keen-eyed hawks patrol from fence-line to fence-line.  There goes a Northern Harrier flying low, swooping, tilting, scanning the ground for small rodents.
A Peregrine Falcon views the entire scene from atop the tallest tree around. [Peregrine Falcon calls]
Nearby, a flock of nearly 10,000 Snow Geese blankets the ground.  Whoah! There goes an eagle toward the flock!  What a clamor as the frightened geese lift up in unison!
[LOUD Snow Goose flock combined calls]
I'm Michael Stein and you'll be hearing me on BirdNote from time to time.  
                                                                            ###
Bird audio provided by The Macaulay Library at the Cornell Lab of Ornithology, Ithaca, New York.  Trumpeter Swans recorded by J.M. Hartshorne.  Snow Goose calls recorded by W.W.H. Gunn.  Bald Eagle calls recorded by J. Storm.  Peregrine Falcon recorded by G. Vyn.
Producer: John Kessler
Executive Producer: Chris Peterson
© 2008 Tune In to Nature.org
ID# skagit-02-2009-02-27   (Some sounds from 2008-02-25-skagit-01-)   2009-02-27-skagit-02-KPLU-MS