Image: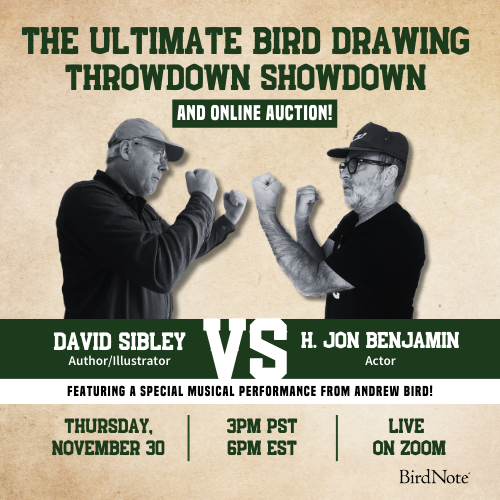 Join BirdNote tomorrow, November 30th!
Illustrator David Sibley and actor H. Jon Benjamin will face off in the bird illustration battle of the century during BirdNote's Year-end Celebration and Auction!
How will birds and other wildlife respond to global climate change? We can learn many lessons from the Alexander Archipelago, a chain of islands in southeast Alaska. Less than 10,000 years ago, these islands were covered by ice. Sea levels were 100 meters lower than today, allowing many species to walk to what are now islands. As glaciers retreated and sea levels rose, populations became isolated. They developed new behaviors and evolved to become new species or subspecies. Only in these islands do wolves wade in streams to catch salmon. The Alexander Archipelago reminds us to expect change on our climatically changing planet.
BirdNote®
The Alexander Archipelago
Written by Gordon Orians

This is BirdNote!

[Glaucous-winged Gulls calling and waves]

We are justifiably concerned about the effect of today's changing climate on birds and other species, including our own. How will living things respond? We can learn many lessons from the Alexander Archipelago, a chain of more than 1,000 islands in southeast Alaska. Less than 10,000 years ago, these islands were covered by ice. With vast quantities of water stored in glaciers, sea levels were 100 meters lower than today, allowing many species to walk to what are now islands.

As glaciers retreated and sea levels rose, populations became isolated. [Glaciers calving] They developed new behaviors and evolved to become new species or subspecies, like the Spruce Grouse on Prince of Wales Island. [Call of Spruce Grouse]

Only in these islands do wolves wade in streams to catch salmon.

The Alexander Archipelago shows us what to expect elsewhere on our climatically changing planet.

Species will colonize places where they have previously not lived. Others will die out as their range becomes uninhabitable. [Isolated populations will evolve into new species and adopt new behaviors.] There will be winners and losers.

Such dynamism is, of course, nothing new. As Heraclites said in 513 BC "All is flux; nothing is stationary." Still we need to remind ourselves not to expect conditions to remain as they are now. [Sounds of a calving glacier and rushing water]

There's more to this story on birdnote.org.

 ###

Bird sounds provided by The Macaulay Library of Natural Sounds at the Cornell Lab of Ornithology, Ithaca, New York. Glaucous-wing Gulls calling 137881 recorded by G.Vyn; call of Spruce Grouse 36985 recorded by C. Duncan.
Sounds of glaciers calving, water flowing and salmon flopping in a stream, assembled by Kessler Productions.
BirdNote's theme music was composed and played by Nancy Rumbel and John Kessler.
Producer: John Kessler
Executive Producer: Chris Peterson
© 2015 Tune In to Nature.org     October 2012/2015/2020   Narrator:  Michael Stein

ID: archipelago-03-2012-10-13    archipelago-03