Image: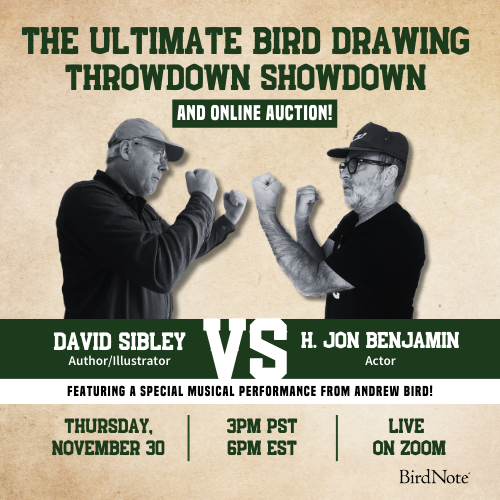 Join BirdNote tomorrow, November 30th!
Illustrator David Sibley and actor H. Jon Benjamin will face off in the bird illustration battle of the century during BirdNote's Year-end Celebration and Auction!
The structure and delicate softness of a Barn Owl's feathers allow it to approach its prey almost silently. Its skillful hunting is enhanced by exceptional sight and acute hearing. The owl's ability to locate prey by sound is the most precise of any animal yet tested. Barn Owls are found worldwide. Pairs raise young whenever sufficient food is available, mostly between February and July, sometimes having as many as three broods per year. Be sure to watch the video!
BirdNote®
Barn Owl, Silent Hunter
Written by Todd Peterson.

This is BirdNote.
[Karr-r-r-r-ick]
Listen to the call of a Barn Owl -- a medium-sized owl with a white, heart-shaped face, and beautiful cream- and buff-colored feathers. Unlike the Great Horned Owl, it has no ear-tufts. If you were to touch the wing of a Barn Owl, you would find it one of the softest things you might ever touch.
[Karr-r-r-r-ick]
Life for most Barn Owls is short. As many as 75% die in their first year, some from starvation in severe weather, when snow is deep and temperatures bitter. Adult pairs raise young whenever sufficient food is available, mostly between February and July. When conditions are good, some pairs will produce two broods in a year.
[Karr-r-r-r-ick]
The structure and delicate softness of their feathers allow Barn Owls to approach prey without sound. In low, quartering flight the owls hunt for rodents at night. Their skillful hunting is enhanced by exceptional sight in dim light — and acute hearing. The Barn Owl's ability to locate prey by sound, even when concealed by snow or leaves, is the most precise of any animal yet tested.
Here's the call of a Barn Owl again. [Karr-r-r-r-ick] And now the twitter of the young birds as the adult returns to the nest from a successful hunt.
[Twitter of nestlings and adult]
Sound and silence — the Barn Owl uses both to live in a dangerous world.
[Karr-r-r-r-ick]
For BirdNote, I'm Mary McCann.
                                                                            ###
Calls of the Barn Owls provided by The Macaulay Library of Natural Sounds at the Cornell Lab of Ornithology, Ithaca, New York. Adult call recorded by D.S. Herr; twitter of fledglings recorded by W.R. Fish.
Producer: John Kessler
Executive Producer: Chris Peterson
© 2010 Tune In to Nature.org           June 2010
ID#  061305BANOKPLU                    BANO-01b