Image: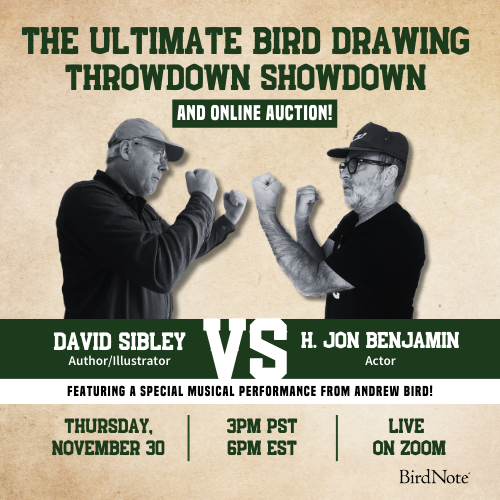 Join BirdNote tomorrow, November 30th!
Illustrator David Sibley and actor H. Jon Benjamin will face off in the bird illustration battle of the century during BirdNote's Year-end Celebration and Auction!
The male Bufflehead performs his extravagant courtship display often. He swims toward the female, bobbing his head up and down at a speed that makes you fear for his neck. He takes off and flies over her with head held low. Then he lifts his head, raises his bushy crest, and skis back on to the water. After landing, he thrusts his head forward and raises his wings sharply behind his head. Then he raises the feathers on his back and challenges other males that have come too close. Be sure to watch the video of Bufflehead courtship on YouTube.
BirdNote®

Bufflehead, Never Still
Written by Dennis Paulson
This is BirdNote!
[Big splash]
 It's spring, and a pair of Buffleheads lands on a small pond. Although already mated, the male loses no time in performing his extravagant courtship display once again, especially because other males are present. [Bufflehead calls - chattering or grating]
 He swims toward the female, bobbing his head up and down at a speed that makes you fear for his neck. He takes off and flies over her with head held low. Then he lifts his head, raises his bushy crest, and skis back on to the water with his bright pink feet showing. [Duck running along water]
 After landing, he thrusts his head forward and raises his wings sharply behind his head. With raised back-feathers, he challenges the other males that have come too close. Then he suddenly dives and attacks from under water, with much jostling and wing thrashing. [Water splashing]
 Between courting their mates and fending off other males, male Buffleheads seem never still. But they obviously succeed in both feeding and mating, as Bufflehead numbers in North America have increased in recent years. Look for them in all habitats, and enjoy their vigorous activities. [Bufflehead calls and water splashing]
 For BirdNote, I'm Frank Corrado.
###
Display sounds of the Bufflehead provided by The Macaulay Library at the Cornell Lab of Ornithology, Ithaca, New York.  Recorded by L.R. Gunn.
Call of the Bufflehead recorded by M. Stewart.
Producer:  John Kessler
Executive Producer:  Chris Peterson
© 2007 Tune In to Nature.org               April 2010
ID#  040607BUFF3KPLU            BUFF-03