Image: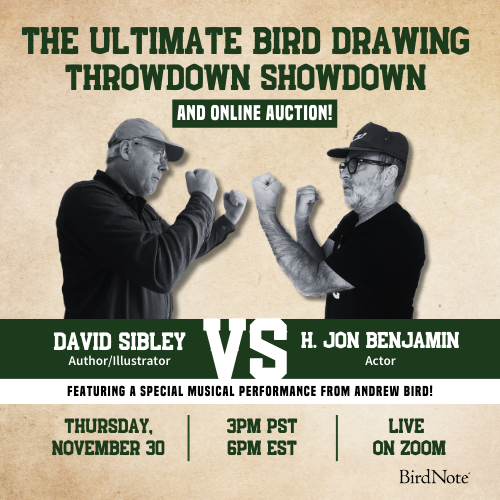 Join BirdNote tomorrow, November 30th!
Illustrator David Sibley and actor H. Jon Benjamin will face off in the bird illustration battle of the century during BirdNote's Year-end Celebration and Auction!
Many birds that forage in open country, such as Cattle Egrets, benefit from association with large grazing mammals. The mammals scare up insects as they move, making them more visible to the birds. In the egrets' native lands in Africa, the birds feed with elephants, rhinos, and Cape buffalos. In the Americas, Cattle Egrets associate with cattle and horses.
BirdNote®
Cattle Egrets — You've Got a Friend in Me
These Birds Get By with a Little Help from Their Friends
Written by Dennis Paulson
This is BirdNote!
[Music: You've Got a Friend in Me]
Many birds that forage in open country benefit from association with large grazing mammals. The big mammals scare up insects as they move, making them more visible to the birds. Cattle Egrets are among the most obvious of those birds. These small white herons with yellow bills are so often found with these large mammals that you could think of them as friends. [Music]
Cattle Egrets in their native lands in Africa feed with elephants and rhinos and Cape buffalos. But they've become established widely in the Americas, and here they associate with cattle and horses. [Cattle mooing]
A cow grazing in a pasture or a buffalo moving over the African savanna kicks up one grasshopper after another, and these egrets walk right at their feet, darting out to capture each one as it flushes. Sharp-eyed as the egrets are, they have trouble seeing the well-camouflaged grasshoppers until they move. [You've Got a Friend in Me]
Get BirdNote whenever you want, when you sign up for our Podcast at BirdNote.org
I'm Michael Stein. [Music and cows]
###
"You've Got A Friend In Me" recorded by Randy Newman © 1995 Toy Story
BirdNote's theme music was composed and played by Nancy Rumbel and John Kessler.
Producer: John Kessler
Executive Producer: Dominic Black
© 2014 Tune In to Nature.org    October 2014/2017/2020   Narrator: Michael Stein
ID#                CAEG-01-2014-10-15    CAEG-01