Image: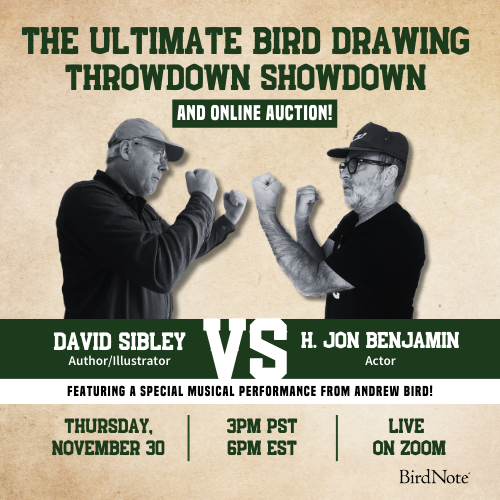 Join BirdNote tomorrow, November 30th!
Illustrator David Sibley and actor H. Jon Benjamin will face off in the bird illustration battle of the century during BirdNote's Year-end Celebration and Auction!
In late September 2011, three California Condors were released near the Grand Canyon. Eddie Feltes of The Condor Recovery Project says: "We open up the gates from a blind and watch those birds take to the sky." The first few days are the most crucial in the birds' life, because they've never flown before. Of all the dangers, the worst is lead poisoning, mainly from ammunition used by big-game hunters. "All we're asking is to switch ammunition from lead to copper." Learn more about Condor restoration at PeregrineFund.org. Watch a video of a condor release in 2010.
BirdNote®
The Reintroduction of California Condors to the Grand Canyon
Interview of Eddie Feltes
Written by Todd Peterson
This is BirdNote.
 [Sound of wind]
A few days from now, three California Condors, with wings up to nine and a half feet across and blood-red eyes, will be released to soar above one of the most dramatic landscapes in the world, the Vermilion Cliffs Cliffs near the Grand Canyon. The Peregrine Fund is bringing them back to the region. Eddie Feltes, (pronounced FELL tis) manager of The Condor Recovery Project, tells us what's going to happen on September 24th at the release site:
Well, about 11 o'clock we will open up the gates from a blind and watch those birds take to the sky. [Wing sounds of a captive condor]…The first few days are the most crucial time in the birds' life, 'cause they've never flown before.They're not aware of ground-dwelling predators, they're not aware of eagles, so we're going to monitor them really closely and pretty much watch them from sun-up to sun-down for the first few weeks.
[Sound of wind]
4:49] The main thing is what's stopping this species from making a full recovery, and that's lead poisoning. These birds are getting poisoned at an alarming rate mainly from ammunition use from big game hunting populations…. [5:14] We don't want to put an end to hunting…actually the condor almost needs hunting to succeed, with the removal of all the major predators. So, hunting bridges a major gap for condor success. [5:29] All we're asking is to switch ammunition from lead to copper. It's that simple. [5:34]
To learn more about the Condor Recovery Project begin at our website, birdnote.org.
[Wing sounds and hiss of a captive condor]…
 To see video of the condors' release, begin at our website, birdnote.org.
###
Sounds of Condor provided by The Macaulay Library of Natural Sounds at the Cornell Lab of Ornithology, Ithaca, New York. Wing sounds and hiss recorded by V. Gerwe.
Producer: John Kessler
Executive Producer: Chris Peterson
© 2011 Tune In to Nature.org    September 2011      Narrator: Michael Stein
ID#SotB-CACO-03-2011-09-22
Track 143 9:05]  >