Image: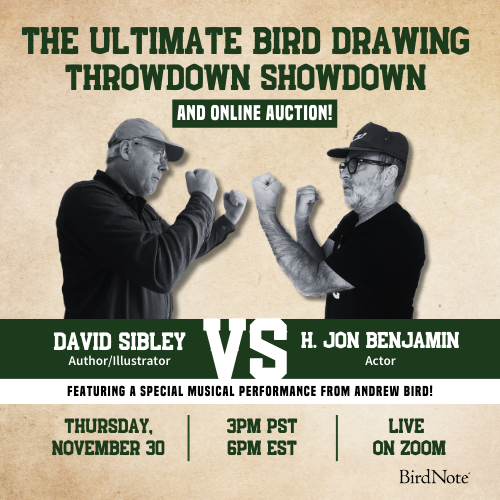 Join BirdNote tomorrow, November 30th!
Illustrator David Sibley and actor H. Jon Benjamin will face off in the bird illustration battle of the century during BirdNote's Year-end Celebration and Auction!
Coast to coast, border to border, forest to feeder, the Downy Woodpecker goes about its business in 49 states. The smallest woodpecker in the United States, it turns up everywhere there are a few trees, except in the dry deserts of the Southwest and in Hawaii.
Sign up for weekly preview email and see photos of all the birds to be featured in the next week.
BirdNote®
Downy Woodpecker – Far and Wide
Written by Ellen Blackstone
This is BirdNote!

[Sounds of Downy Woodpecker][Sounds of Downy Woodpecker]

Coast to coast, border to border, forest to feeder, the Downy Woodpecker goes about its business in 49 states. It turns up everywhere there are trees, except Hawaii and in the dry deserts of the Southwest.

The Downy is the smallest woodpecker in the United States. It might have been named by comparing it to its larger cousin, the Hairy Woodpecker, which looks quite similar. Where the Downy has soft, fluffy feathers, especially at the back of its head, the Hairy's feathers look stiff and bristly. [Sounds of Downy Woodpecker]

The flash of red on the woodpecker's head brings a bit of cheer to your winter feeder. It's the male that has the red; the female sports only black and white feathers. And there's another difference: the female searches for insects and other tasty tidbits on large limbs and the trunk of a tree, while the male works farther out, on smaller branches.

But add a suet cake to your winter bird banquet, and you'll probably bring the Downy Woodpecker right up close. [Sounds of Downy Woodpecker]

Learn how to serve up a banquet for your birds and sign up for weekly preview email, all on our website, birdnote.org.  I'm Mary McCann.

###
Bird sounds provided by The Macaulay Library at the Cornell Lab of Ornithology, Ithaca, New York. Call [62757] and rattle [62758] recorded by W.W.H. Gunn and [44905] W.H. Hershberger. Drum call [44905] by G.A. Keller. Ambient track provided by John Kessler Productions.
BirdNote's theme music was composed and played by Nancy Rumbel and John Kessler.
Producer:  John Kessler
Executive Producer:  Chris Peterson
© 2012 Tune In to Nature.org     December 2012/2017/2021    Narrator: Mary McCann
ID#120105DOWOKPLU      DOWO-02c