Image: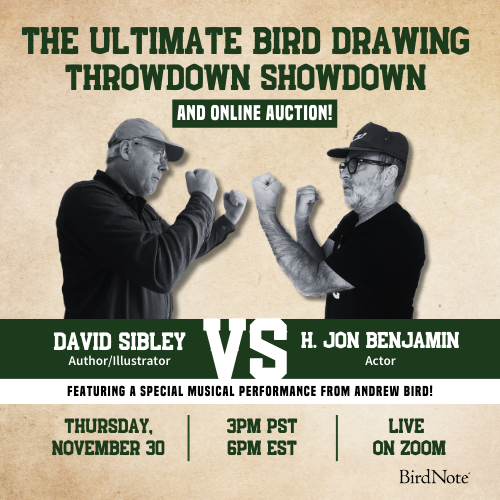 Join BirdNote tomorrow, November 30th!
Illustrator David Sibley and actor H. Jon Benjamin will face off in the bird illustration battle of the century during BirdNote's Year-end Celebration and Auction!
This Earth Day, we invite you to join us and help Bring Birds Back. You could help preserve the wetlands to protect the American Bittern and its otherworldly song, or keep the Sharp-tailed Grouse with us. Learn more ways you can help from our conservation partners. And find out what Earth Day event might be going on near you.
BirdNote®
Earth Day, Birds on the Brink
Adapted from a story by Chris Peterson
This is BirdNote, and today is Earth Day.
[Pecking and call of the Ivory-billed Woodpecker ML1612 A.A. Allen)

This is the sound of the Ivory-billed Woodpecker—a bird that was last seen, for certain, before 1950. The low-lying, hardwood forests of the Southeast that it depended on had been cut down. 
[Pecking and call of the Ivory-billed Woodpecker ML1612 A.A. Allen)]
But it's not too late to help other birds, like the solitary American Bittern. We can preserve the wetlands upon which they depend, so that the bittern's otherworldly song never disappears.
[Song of the American Bittern ML57190 R. Pantle]
The Sharp-tailed Grouse lives in a wide range of habitats, from prairie grasslands, to shrublands, to the bogs of the boreal forest. Populations of Sharp-tailed Grouse have increased by nearly 20% since 1970, partly thanks to the Conservation Reserve Program. 
[Vocalizations of the Sharp-tailed Grouse ML141142 G. Vyn)]
Let's end with a real success story: by the end of 2019, 337 California Condors graced the skies over the West Coast! With the help of a multitude of individuals, government agencies, wildlife organizations and more, the wild population has increased from only 25 birds in the 1980s.
This Earth Day, we invite you to join BirdNote and our conservation partners to help Bring Birds Back. Start at BirdNote.org. 
[Dawn chorus Nature SFX 045 Deciduous Morning)]
I'm Mary McCann.
                                                                         ###
Senior Producer: John Kessler
Production Manager: Allison Wilson
Producer: Mark Bramhill
Associate Producer: Ellen Blackstone
Bird sounds provided by The Macaulay Library of Natural Sounds at the Cornell Lab of Ornithology, Ithaca, New York. Ivory-billed Woodpecker Recorded by A.A. Allen, American Bittern recorded by S. Pantle, Sharp-tailed Grouse recorded by G. Vyn, Morning Songbirds recorded by Gordon Hempton
BirdNote's theme was composed and played by Nancy Rumbel and John Kessler.
© 2021 BirdNote   April 2021    Narrator: Mary McCann
ID#    042205earth    earthday-01b
https://www.allaboutbirds.org/guide/Sharp-tailed_Grouse/lifehistory
https://www.audubon.org/news/government-proposes-first-take-permit-cond…
https://www.ventanaws.org/
https://www.borealbirds.org/bird/sharp-tailed-grouse