Image: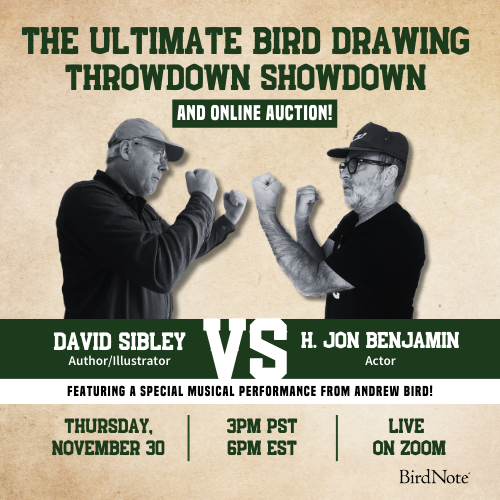 Join BirdNote tomorrow, November 30th!
Illustrator David Sibley and actor H. Jon Benjamin will face off in the bird illustration battle of the century during BirdNote's Year-end Celebration and Auction!
Geese migrate north between February and April, making stopovers along the way to rest and eat. Most are bound for their breeding grounds in the far north. But we'll hear them again soon, on their way back south in October. Click play and learn how to tell some North American species apart by sound!

Today's show brought to you by the Bobolink Foundation.
BirdNote®
Geese Aloft: Flock Voices of March
Written by Bob Sundstrom
 
This is BirdNote.

[Snow Geese flock sounds: https://macaulaylibrary.org/asset/113903411, 0.01-.05]

A flock of geese wings across the sky, in perfect V-shaped formation. It's one of the most enduring images of migration.

Step outside and you might hear them, migrating after dark or flying above the clouds, invisible.

The rhythmic honking of Canada Geese is what you probably hear most often. [https://macaulaylibrary.org/asset/114237301 0.02-.08]

While the calls of white-feathered Snow Geese are more sharp and nasal. [https://macaulaylibrary.org/asset/113905891, 0.00-.02]

The voices of Greater White-fronted Geese sound like laughs or yelps: [https://macaulaylibrary.org/asset/131491: 0.21-26]  

Cackling Geese, which look like pint-sized Canada Geese, have a rhythmic, higher-pitched call.  [https://macaulaylibrary.org/asset/116919951: 0.07-.13]

Geese migrate north between February and April, making stopovers along the way to rest and eat. Most are bound for their breeding grounds in the far north. But we'll hear them again soon, on their way back south in October.
 
[Greater White-fronted Geese calling, https://macaulaylibrary.org/asset/131491: 0.21-26]
 
For BirdNote, I'm Michael Stein.

Today's show brought to you by the Bobolink Foundation.

###
 
Bird sounds provided by The Macaulay Library of Natural Sounds at the Cornell Lab of Ornithology, Ithaca, New York. Recorded by Paul Marvin, Bill Tollefson, Gerrit Vyn and Blair Dudeck.
BirdNote's theme composed and played by Nancy Rumbel and John Kessler.
Producer: John Kessler; Managing Producer: Jason Saul; Editor: Ashley Ahearn; Associate Producer: Ellen Blackstone; Assistant Producer: Mark Bramhill.
© 2019 Tune In to Nature.org   March 2019/2022   Narrator: Michael Stein
 
ID# goose-01-2019-03-15    goose-01