Image: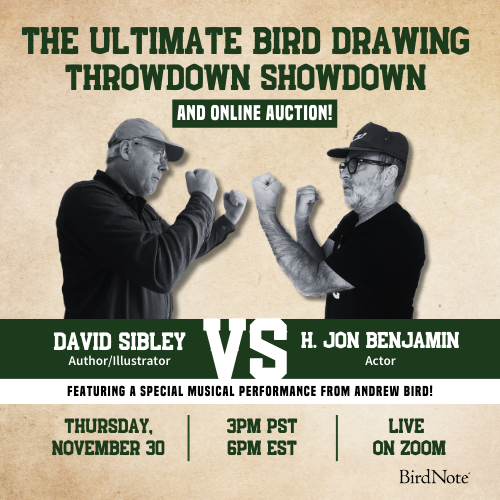 Join BirdNote tomorrow, November 30th!
Illustrator David Sibley and actor H. Jon Benjamin will face off in the bird illustration battle of the century during BirdNote's Year-end Celebration and Auction!
Go outside this weekend. Feel the wind in your hair. Listen to a bird. Discover a new park. Then get involved! Volunteer to lead your own bird walk. Participate in a bird count or cleanup. Or maybe you're more comfortable around a laptop  – lots of local parks and environmental nonprofits have governing boards, office tasks, and other opportunities for everyone to get involved.
BirdNote understands birders and people who enjoy nature come in all races, genders and abilities. For more about accessible birding, check out this episode.
BirdNote®
Get Involved
Written by Jason Saul

[pleasant woods bird chorus throughout - with Northern Cardinal, Mourning Dove, and others]

This is BirdNote.

Think back to the last time you enjoyed the outdoors. Maybe you were camping in the mountains, or swimming in a lake, or taking a stroll through a park.

It takes a lot of people working together to keep those wild places great. And there are so many ways you can get involved.

Many parks and wildlife refuges have visitor centers. Check in there to find out how you can help.

Maybe your local park has a volunteer clean-up day and you could lend a hand, or even lead your own bird walk there.

If you're looking for something more active, check with your local trails association. They probably have a work party coming up. Get out there and make some new friends while you build a bridge or clear trails in the wilderness.

Or maybe you're more comfortable around a laptop than a chainsaw. Lots of local parks and nonprofits have governing boards and other opportunities to get involved. That's an amazing way to develop new skills and even make some professional connections.

It takes brains and brawn to keep our natural places safe and healthy, for birds, and for people, too.

[Mourning Dove]

For BirdNote, I'm Mary McCann.

Never miss an episode of BirdNote by subscribing to our podcast. Just search for "BirdNote" in your podcast app.

###

Producer: John Kessler
Executive Producer:  Sallie Bodie
Editor: Ashley Ahearn
Associate Producer: Ellen Blackstone
Assistant Producer: Mark Bramhill
Narrator: Mary McCann
Ambient track is Nature SFX 046 Deciduous Forest, recorded by G. Hempton.
BirdNote's theme was composed and played by Nancy Rumbel and John Kessler.
© 2019 BirdNote   November 2019 / December 2022

ID#  getinvolved-01-2019-11-11    getinvolved-01