Image: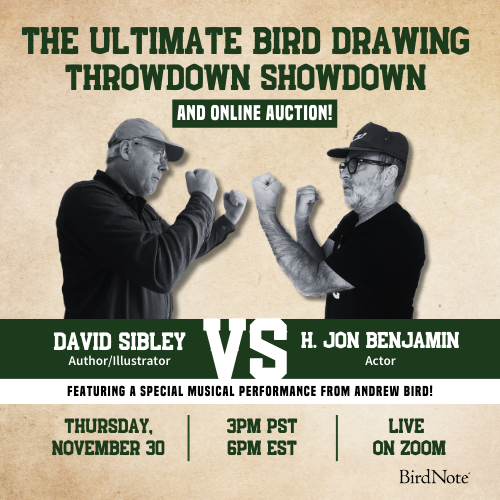 Join BirdNote tomorrow, November 30th!
Illustrator David Sibley and actor H. Jon Benjamin will face off in the bird illustration battle of the century during BirdNote's Year-end Celebration and Auction!
Greater Anis make communal nests in which two or more pairs share responsibilities. But that doesn't mean they cooperate with their neighbors. Researchers in Panama captured anis on camera tossing fake eggs out of artificial nests. Although scientists haven't yet seen anis destroy real nests, the evidence suggests that anis engage in neighborhood disputes.
BirdNote®
Greater Anis 
Written by Richa Malhotra
This is BirdNote. 
Greater Anis, unlike other cuckoos, enlist each other's help in making a communal nest, where responsibilities are shared by two or more pairs nesting together. But that spirit of cooperation does not always extend to neighboring groups.
[https://www.xeno-canto.org/341239, 0.26-.35]    
During fieldwork spanning a decade in the remote forests of central Panama, scientists came across 18 nests that had been destroyed. The nests showed no signs that they had been attacked by a predator, but whole egg clutches were thrown out, and there were a lot of seemingly disgruntled birds around.
[https://www.xeno-canto.org/556248, 0.14-.21] 
The scientists wanted to know what predators were to blame. To find out, they placed fake eggs in artificial nests and set up a camera to monitor the sites. The footage showed that predators like monkeys weren't the only ones to visit the nests. When anis from neighboring territories discovered some of the artificial nests, they tossed out the fake eggs. 
Although scientists haven't yet seen anis destroy real nests, there is now evidence that neighborhood disputes between groups of nesting anis are what led to the destroyed nests found during fieldwork. The birds probably do this to eliminate competition for resources. 
[https://www.xeno-canto.org/286574, 0.02-.13]
For BirdNote, I'm Michael Stein. 
                                                                         ###
Senior Producer: John Kessler
Production Manager: Allison Wilson
Producer: Mark Bramhill
Associate Producer: Ellen Blackstone
Digital Producer: Conor Gearin
Bird sounds provided by The Macaulay Library of Natural Sounds at the Cornell Lab of Ornithology, Ithaca, New York. Greater Ani Xeno-Canto 341239 recorded by J. Minns, Greater Ani Xeno-Canto 556248 recorded by C. Brito, Greater Ani Xeno-Canto 286574 recorded by J. Fischer.
BirdNote's theme was composed and played by Nancy Rumbel and John Kessler.
© 2021 BirdNote   June 2021      Narrator: Michael Stein
ID#  GRTA-01-2021-06-28    GRTA-01    
Reference:
https://onlinelibrary.wiley.com/doi/abs/10.1111/eth.13113