Image: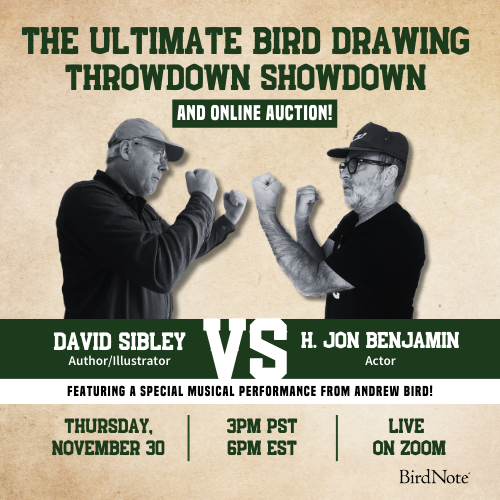 Join BirdNote tomorrow, November 30th!
Illustrator David Sibley and actor H. Jon Benjamin will face off in the bird illustration battle of the century during BirdNote's Year-end Celebration and Auction!
In Seattle, in a secluded ravine just steps away from a busy ship canal, nearly 100 pairs of Great Blue Herons return each year to nest. A group of citizens called Heron Habitat Helpers has helped this colony thrive. Their president, John "Hooper" Havekotte, credits the founders, Donna Kostka and Heidi Carpine. Before the organization began, the ravine was home to tons of garbage. Now, just a few years later, due to the work of all the volunteers, the garbage is gone and the heron colony has doubled. In 2010, the City of Seattle named Kiwanis Ravine its first official wildlife sanctuary in a park.
Do you know of such a project in your neighborhood? Leave a comment below!
BirdNote®
Helping the Herons

Interviewed and written by Sallie Bodie

This is BirdNote!
[Sounds of a heron colony with nestlings]
In one of Seattle's busiest neighborhoods, in a secluded ravine, nearly one hundred pairs of Great Blue Herons return each year to raise their young. They build nests high up in the big leaf maple trees of a 16-acre park.
What's helped this colony thrive? A group of citizens called Heron Habitat Helpers.
Their president, John "Hooper" Havekotte, says that before the organization began, the ravine was home to tons of garbage. Now, just a few years later, due to the work of the volunteers, the garbage is gone and the heron colony has doubled. He credits the two founders, Donna Kostka and Heidi Carpine:
"If Donna and Heidi had not gotten involved, the park would have been just a big dump site – and all that has changed over the last few years."

The City allocated $600,000 from a pro-parks levy, [some of it to hire landscape companies and helpers from Earth Corps] to restore native trees and shrubs. The hard work has paid off. In 2010, the City of Seattle named Kiwanis Ravine its first official wildlife sanctuary in a park.
 "I am so tickled to be part of an organization that draws on humanity and humanity's concern for nature. It is touching how people will respond with their time and energy. It sort of re-affirms one's faith in life."

Learn more about this project, or tell us about a similar one in your neighborhood, when you visit our website birdnote.org.
                                                                               ###
Calls of the Great Blue Heron nestlings provided by The Macaulay Library of Natural Sounds at the Cornell Lab of Ornithology, Ithaca, New York, recorded by Martha Fischer.

S.Bodie Hooper files Track 25 2:50; Track 26 3:02.
Producer: John Kessler
Executive Producer: Chris Peterson
© 2012 Tune In to Nature.org          June 2012     Narrator: Michael Stein
ID#     heronhabitathelpers-01