Image: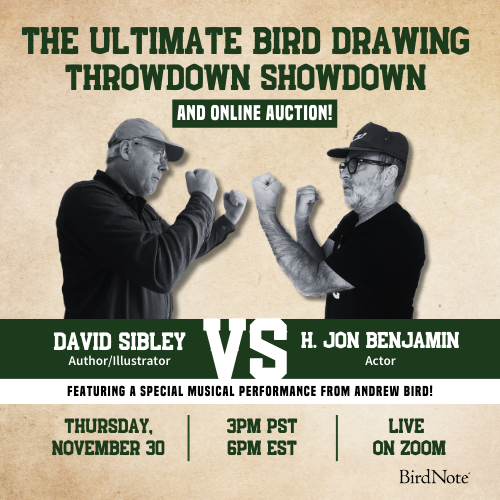 Join BirdNote tomorrow, November 30th!
Illustrator David Sibley and actor H. Jon Benjamin will face off in the bird illustration battle of the century during BirdNote's Year-end Celebration and Auction!
Nearly all birds produce sound through an organ unique to birds, the syrinx. In many songbirds, the syrinx is not much bigger than a raindrop. Extremely efficient, it uses nearly all the air that passes through it. By contrast, a human creates sound using only 2% of the air exhaled through the larynx. Birds whose syrinx is controlled by only one set of muscles have a limited vocal range. This Song Sparrow, using several pairs, can put forth a cascade of trills and notes.
BirdNote®
How Birds Produce Sound
Written by Chris Peterson
This is BirdNote!
[Call of the Brandt's Cormorant; Song of the Northern Cardinal; Song of the Song Sparrow]
You just heard the grunt of a cormorant, the whistle of a cardinal, and the song of a Song Sparrow. Nearly all birds produce sound through an organ unique to birds, the syrinx. [Song of cardinal]
The syrinx is a set of muscles and membranes located where the two branches of the bronchial tubes converge to become the trachea. An adjacent air-sac helps build pressure in the syrinx. In many songbirds, this whole song-producing apparatus is not much bigger than a raindrop. The syrinx is extremely efficient at creating sound, using nearly all of the air that passes through it.
Let's listen again to the limited vocal range of the cormorant, whose syrinx is controlled by only one set of muscles [Call of the cormorant]. The cardinal creates its pure whistle by producing sound in its left and right bronchial tubes simultaneously [Song of cardinal] The Song Sparrow, like many other songbirds, has five to seven pairs of muscles that govern the syrinx. It puts forth a cascade of trills and notes, as if singing a duet with itself [song of the Song Sparrow].
 I'm Michael Stein.
###
Bird sounds provided by the Macaulay Library of Natural Sounds at the Cornell Lab of Ornithology, Ithaca, New York. Brandt's Cormorant recorded by G.F. Budney; Northern Cardinal recorded by G.A. Keller; Song Sparrow recorded by G.A. Keller.
Producer: John Kessler
Executive Producer: Chris Peterson
© 2014 Tune In to Nature.org     April 2014 / 2021 / July 2023     
Narrator:  Michael Stein
ID# orig: sound-01c-2021-4-1       sound-01c