Image: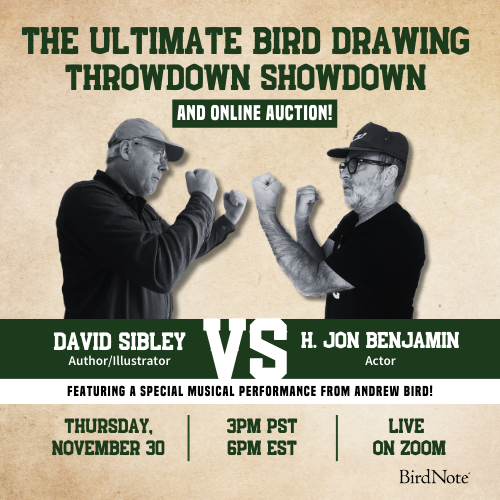 Join BirdNote tomorrow, November 30th!
Illustrator David Sibley and actor H. Jon Benjamin will face off in the bird illustration battle of the century during BirdNote's Year-end Celebration and Auction!
Birds usually fly relatively low. Most of the year, they stay under 500 feet. During migration, though, birds gain altitude, and many species fly at 2,000 to 5,000 feet or higher, using prevailing winds to assist them. A bird may begin migration at about 5,000 feet and slowly climb to 20,000 feet. Birds can fly higher as they become lighter. The record flight is for a Ruppell's Griffon - like this one - which was unfortunately sucked into a jet engine at 37,900 feet. To make a gift in support of BirdNote, use the "DONATE" button above. Thanks!
BirdNote®
How High Birds Fly, Part I
Written by Frances Wood
This is BirdNote!
[Music from the opening of Sibelius' Symphony 6 Op. 104]
From our land-based perspective, birds appear to fly fairly low. And for much of the year, birds stick to under 500 feet. That's where food and shelter await them, and there is no reason to expend the energy to wing skyward.
However, during migration there is good reason for birds to gain altitude, and many species fly at 2,000 to 5,000 feet, where they can use the prevailing winds to assist them on their way. On a long-distance flight, a bird may begin travel at about 5,000 feet and then slowly climb to 20,000 feet. Like a jet plane that can fly higher as it uses up fuel, birds can fly higher as they become lighter. One record for high-altitude flight was a flock of swans over Northern Ireland, visually identified by a pilot cruising at 29,000 feet.
But the all-time record for highest-flying bird goes to a vulture with a ten-foot wingspan called a Ruppell's Griffon. The bird, unfortunately, was sucked into a jet engine at 37,900 feet. That's more than a mile and half higher than the summit of Mt. Everest.
BirdNote is independently produced and funded by the non-profit Tune In to Nature. To learn more, come to BirdNote.org. I'm Frank Corrado.
 ###
Musical selection drawn from Symphony 6 Op. 104, composer Jean Sibelius,
performed by The Gothenburg Symphony Orchestra, BIS
Producer: John Kessler
Executive Producer: Chris Peterson
© 2011 Tune In to Nature.org   September 2011   Narrator: Frank Corrado
ID#092805highIKPLU