Image: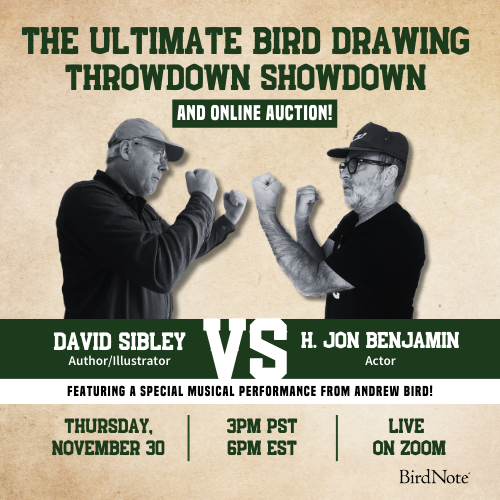 Join BirdNote tomorrow, November 30th!
Illustrator David Sibley and actor H. Jon Benjamin will face off in the bird illustration battle of the century during BirdNote's Year-end Celebration and Auction!
Midway Atoll is the winter home of nearly a million nesting albatrosses. Laysan Albatrosses return to Midway in November to breed. Roughly 450,000 pairs wedge their way into a scant 2½ square miles of land surface. And why do Laysans nest in winter? Well, the big birds forage mostly at night, so the longer hours of darkness in winter provide more time to find food for their rapidly growing chicks. And just how big do the chicks get? By mid-May, they may weigh seven pounds, half a pound heavier than an average adult. The young birds will need that extra fat - and energy - as they learn to fly.
BirdNote®
Laysan Albatrosses Nest at Midway Atoll
Written by Bob Sundstrom

This is BirdNote.

[Laysan Albatross - groaning, bill clacking, whinnies]

Midway Atoll, a small island more than 1,200 miles northwest of Honolulu, is the winter home for nearly a million nesting albatrosses.

[Laysan Albatross moans, whinnies, bill clacking]

Most are Laysan Albatrosses, huge, handsome seabirds with white bodies and dark, saber-shaped wings six feet across. Laysans return to Midway in November to breed. Roughly 450,000 pairs wedge their way into a scant 2½ square miles of land, creating one of the world's most spectacular seabird colonies.

[Laysan Albatross sounds – whinnies and bill clacking]

It may seem curious that Laysans nest in winter, when most birds nest in spring and summer. But these big birds forage mostly at night, so the longer hours of darkness in winter provide more time to find food for their rapidly growing chicks.

Beginning in late January, when the single chick hatches, both parents will feed it for the next six months. And by mid-May, it may weigh seven pounds, even heavier than the average adult. The young bird will need that extra fat and energy, as it learns to fly.

[Laysan Albatross sounds - moans, whinnies, bill clacking]

By August, the once-noisy colony is all but empty — until next winter.

For BirdNote, I'm Mary McCann.

###
Bird sounds provided by The Macaulay Library of Natural Sounds at the Cornell Lab of Ornithology, Ithaca, New York. Laysan Albatross 959-2 (all sounds) recorded by E.Booth
Producer: John Kessler
Executive Producer: Chris Peterson
© 2015 Tune In to Nature.org       January 2015 / 2020      Narrator: Mary McCann

ID# LAAL-01-2013-01-02    LAAL-01b