Image: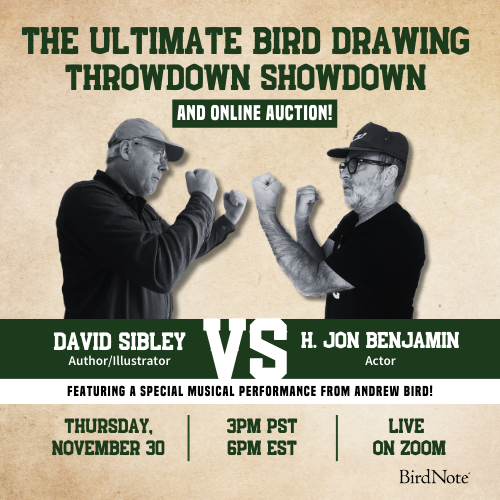 Join BirdNote tomorrow, November 30th!
Illustrator David Sibley and actor H. Jon Benjamin will face off in the bird illustration battle of the century during BirdNote's Year-end Celebration and Auction!
In this episode, ornithologist J. Drew Lanham shares a note he has written to a Dark-eyed Junco, which he fondly nicknames "snowbird."
 
BirdNote®
Letter to a Dark-eyed Junco
Written by J. Drew Lanham
This is BirdNote. I'm J. Drew Lanham, an ornithologist, naturalist and writer, and this is a note I've written to a bird I love.
    [Dark-eyed Junco song]
Dear Snowbird,
Junco. Yes, you with the dark eyes. Dark-eyed Junco. Yes, you are a junco to most,  but persistently in my memory, you're a snowbird.  
[Dark-eyed Junco song]
My grandmother, Mamatha, would agree — then toss you (and all the other sparrows) a handful of grits. 
    
    [Dry grits being tossed on the ground]
She'd shower the frosty ground with that crushed-to-almost-dust corn right from the bag. There'd be no butter or melty cheese on top of the heaping hot plate of cooked grits she didn't give you. That steamy meal she'd toss to me. 
    [Plate being placed on a table]
I know it would've been a bit much for you. You're more of an al fresco bird. 
[Dark-eyed Junco song]
    
I still see you scratching for seeds and such in my South Carolina home now, like you did back then. I know that the warming world makes it harder than ever to claim snow in your name, but you'll always be the sparrow in a tuxedo, little Junco. I'll expect you again when the leaves are past falling and the limbs almost bare. How about we keep the chilly nickname between us? OK? 
    [Dark-eyed Junco song]
You Melt Me,
Drew
###
Senior Producer: John Kessler
Producer: Mark Bramhill
Managing Editor: Jazzi Johnson
Managing Producer: Conor Gearin
Content Director: Jonese Franklin
Bird sounds provided by The Macaulay Library of Natural Sounds at the Cornell Lab of Ornithology, Ithaca, New York. Dark-eyed Junco ML94361 and ML79472 recorded by Wil Hershberger, and Dark-eyed Junco ML352203561 recorded by Jeff Ellerbusch.
BirdNote's theme was composed and played by Nancy Rumbel and John Kessler.
© 2023 BirdNote September 2023
Narrator: J. Drew Lanham
ID# letter-DEJU-01-2023-09-22    letter-DEJU-01