Image: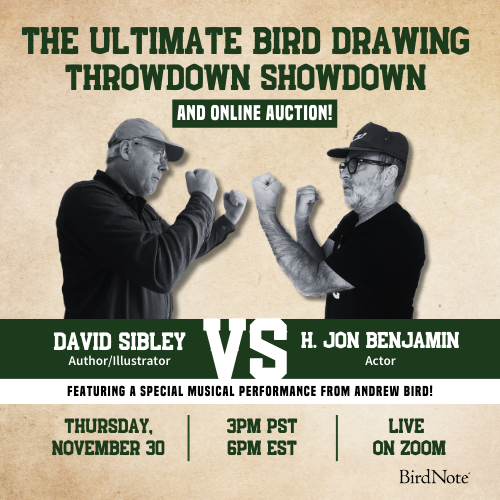 Join BirdNote tomorrow, November 30th!
Illustrator David Sibley and actor H. Jon Benjamin will face off in the bird illustration battle of the century during BirdNote's Year-end Celebration and Auction!
Close your eyes and let's take a little trip today, from one landscape to another, discovering new birds calling in the wild. Particular birds are tied to their particular habitats. As these natural places go, so go the birds.
BirdNote®
Matching Birds with their Habitats
Adapted from a script by Chris Peterson

This is BirdNote.

Close your eyes and let's take a little trip today, from one landscape to another, discovering new birds calling in the wild.

[Call of the American Bittern] The American Bittern, hard to spot but easy to hear, calling from a freshwater marsh.

Wild Turkeys [Call of a flock of Wild Turkeys]… stick to oak and beech forests with fields and clearings.

The House Wren [Song of the House Wren]… can be found in gardens and brushy woods…

Red Knots [Call of a Red Knot] … forage for food on beaches and mudflats - like those of the Chesapeake Bay. These shorebirds have declined dramatically in the past forty years as humans build along their habitat.

And where would you hear a Mourning Dove? [Call of the Mourning Dove] They like brushy, open areas, but they enjoy back yards, too.

Particular birds are tied to their particular habitats. As these natural places go, so go the birds.

Find the birds that call your area home, or that visit on their way through, at AllAboutBirds.Org. For BirdNote, I'm Michael Stein.

###

Producer: John Kessler

Managing Producer: Jason Saul

Editor: Ashley Ahearn

Associate Producer: Ellen Blackstone

Assistant Producer: Mark Bramhill

Narrator: Michael Stein

Bird sounds provided by The Macaulay Library at the Cornell Lab of Ornithology, Ithaca, New York. American Bittern recorded by S. R. Pantle; Wild Turkeys by G.A. Keller; House Wren by G.A. Keller; Red Knot by Gerrit Vyn; Mourning Dove W.R. Fish. Ambient recording by C. Peterson.

BirdNote's theme music was composed and played by Nancy Rumbel and John Kessler.

© 2019 BirdNote     August 2010 / 2017 / 2019

ID# birding-14-2010-08-12         birding-14b