Image: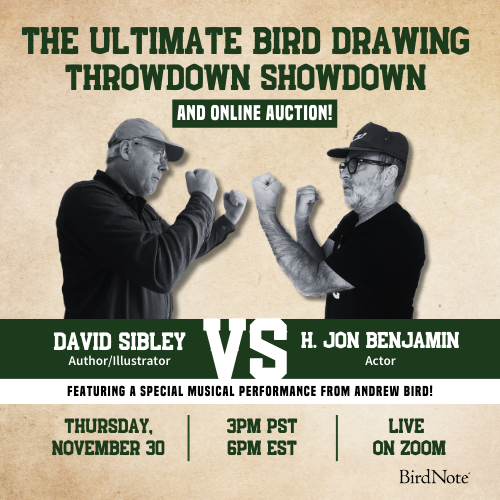 Join BirdNote tomorrow, November 30th!
Illustrator David Sibley and actor H. Jon Benjamin will face off in the bird illustration battle of the century during BirdNote's Year-end Celebration and Auction!
Do you ever see flocks of birds in your yard that show up in droves one year, but are completely absent the next? Some nomadic species such as Pine Siskins move based on the availability of food and habitat. It's called "irruptive" migration, and it sometimes leads to backyards full of siskins. While these flocks are a delight for bird watchers, the dense groups can easily transmit diseases such as salmonellosis.
Today's show brought to you by the Bobolink Foundation.
BirdNote®
Pine Siskin Irruption
Written by Ariana Remmel
This is BirdNote.
Do you ever see flocks of birds in your yard that show up in droves one year but are completely absent the next? 
[Pine Siskin songs ​​https://macaulaylibrary.org/asset/304501831]
Take this flock of Pine Siskins swarming around a thistle feeder, their wings briefly flashing yellow as they flit about. Rather than adopting the common, north-and-south itinerary you might associate with migrating songbirds, these siskins take a more nomadic approach — their movements depend on the availability of food and habitat. It's called "irruptive" migration.
    [Pine Siskin songs ​​https://macaulaylibrary.org/asset/304501831]
In years when conifer seeds are scarce in the boreal forests of Canada, Pine Siskins might hang around in lower latitudes — say Southern California or Tennessee. The location and timing of these irruptions change from year to year. 
And sometimes by chance, gigantic flocks of Pine Siskins get funneled into the same regions — leading to backyards full of siskins. While these flocks are a delight for bird watchers, the dense groups of siskins can easily transmit diseases such as salmonellosis to each other and to other birds. It's a good reminder to keep bird feeders clean for our feathered visitors that can't always "social distance" when diseases spread. 
[Pine Siskin songs ​​https://macaulaylibrary.org/asset/304501831]
For BirdNote, I'm Ariana Remmel. 
Today's show brought to you by the Bobolink Foundation.
###
Senior Producer: John Kessler
Production Manager: Allison Wilson
Producer: Mark Bramhill
Associate Producer: Ellen Blackstone
Digital Producer: Conor Gearin
Bird sounds provided by The Macaulay Library of Natural Sounds at the Cornell Lab of Ornithology, Ithaca, New York. Pine Siskin ML 304501831 recorded by M.Z.
BirdNote's theme was composed and played by Nancy Rumbel and John Kessler.
© 2021 BirdNote      October 2021    Narrator: Ariana Remmel
ID# PISI-01-2021-10-08     PISI-01