Image: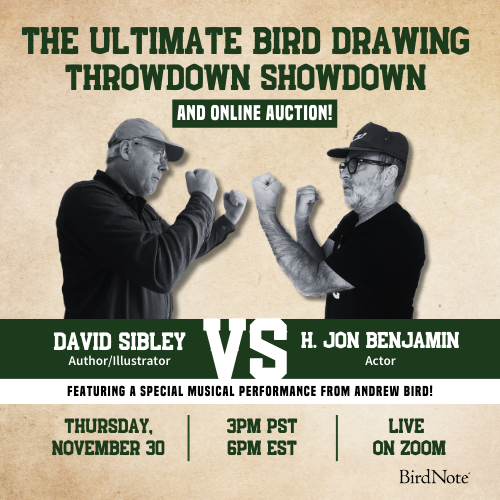 Join BirdNote tomorrow, November 30th!
Illustrator David Sibley and actor H. Jon Benjamin will face off in the bird illustration battle of the century during BirdNote's Year-end Celebration and Auction!
Monk Parakeets, also known as Argentine Parrots, are native to South America but have become popular as pets – thanks in part to their intelligence and ability to mimic human speech. But in some areas, such as Mexico, these birds have become invasive. After being released or escaping, some Monk Parakeets have formed feral populations that have quickly spread, competing with native bird species for resources.
Listen to this episode in Spanish here.
 
BirdNote®
Monk Parakeets: Little Green-Blue Invaders 
Written by Paula Vilella

This is BirdNote.
[Monk Parakeet imitating human voice]
This bird is saying "I love you so much!"  in Spanish. 
It's the Monk Parakeet or Argentine Parrot. They're small birds native to South America that have entertained thousands of households with their charm, intelligence, and ability to mimic human speech. They're brightly colored birds, lime green with blue-tipped wings.
[Monk Parakeet call]
They're perfect exotic pets... that broke free and are thriving in new territories. Monk Parakeets entered Mexico and other countries as a companion animal. But after being released by owners or escaping captivity, they've formed self-sustaining colonies and have adapted well to urban areas.
[Monk Parakeet flight call]
But don't be fooled by these adorable parakeets: in some areas, they're becoming  pests. There are roughly 5,000 roaming free in Mexico. They can be found from Chihuahua to Chiapas, but they are most commonly spotted around Mexico City and the surrounding valley. Some countries, such as Spain, already prohibit keeping Monk Parakeets as pets.
    [Monk Parakeet flock calls]
These birds multiply fairly quickly and deplete the food resources of native species. The heavy nests they build high up over treetops break branches and sometimes even pose a threat to urban infrastructure. Authorities no longer hide their concern: this adorable pet is unwelcome.
For BirdNote, I'm Lucina Melesio.
###
Senior Producer: John Kessler
Producer: Mark Bramhill
Managing Editor: Jazzi Johnson
Managing Producer: Conor Gearin
Content Director: Jonese Franklin
Bird sounds provided by The Macaulay Library of Natural Sounds at the Cornell Lab of Ornithology, Ithaca, New York. Monk Parakeet ML432844351 recorded by Nick Tepper, and Monk Parakeet ML113313251 recorded by Frida Cuevas Contreras.
BirdNote's theme was composed and played by Nancy Rumbel and John Kessler.
© 2023 BirdNote September 2023
Narrator: Lucina Melesio
ID# MOPA-02-2023-09-26        MOPA-02