Image: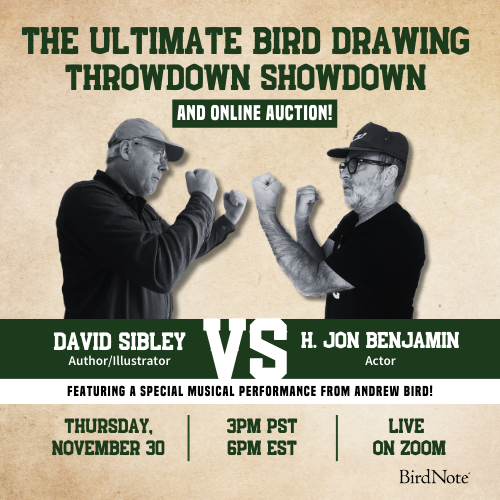 Join BirdNote tomorrow, November 30th!
Illustrator David Sibley and actor H. Jon Benjamin will face off in the bird illustration battle of the century during BirdNote's Year-end Celebration and Auction!
Travel into Seattle from Sea-Tac airport, and you might share the shuttle with a Red-tailed Hawk! To protect planes, passengers and birds, airport biologists Steve Osmek and Bud Anderson are capturing and relocating raptors. They band and wing-tag the hawks, then release them in the Skagit Valley, far enough away that they won't come back. And how to transport such big young birds? Enter Bellair Shuttle. The airporter agreed to carry the hawks, secure in covered animal carriers, north to safer foraging grounds. See photos. Seen a tagged bird? Report it to the Port of Seattle - see below.
BirdNote®
Red-tails Ride the Bus
Written by Todd Peterson
 This is BirdNote.
[Sound of jet airliners at Sea-Tac airport]
Traveling home after a flight into Seattle's Sea-Tac airport, you might share a ride on the shuttle with a Red-tailed Hawk!
[Sound of bus starting up]
To protect planes, passengers and birds, airport biologists Steve Osmek and Bud Anderson are capturing and relocating raptors. [Scream of a Red-tailed Hawk]
Bud Anderson explains:  
M2 Track 236, 3:00 "Essentially what happened is from the 23rd of July of this year to the 8th of September…we had 45 juvenile Red-tails come on to the runways here at Sea-Tac. In fact there were so many, we caught 12 in a single day. And none of us have ever seen anything like this in the past. We average about 35 raptors a year here that we capture and transport, but this year, it's up to 108 birds, which is just phenomenal."
So how to transport so many big young birds far enough away that they won't come back? Well, after weighing, measuring, banding, and wing-tagging the hawks, Bud releases them near his home in the wide-open country of the Skagit Valley. 
M2 T 12:00 "It's a flat farmland …area. It's loaded with voles. It's loaded with shorebirds, with starlings, with ducks. And so it supports a high number of hawks. …Also there aren't too many people and certainly no low flying jets, so they're much safer…
We take 'em to what we call a better restaurant."
But the release site is 75 to 80 miles north through Seattle's famous traffic. That's where Bellair Shuttle comes in. The airporter agreed to carry the hawks, secure in covered animal carriers, north to safer foraging grounds.
[Scream of a Red-tailed Hawk]
Find out how to identify one of these banded birds, on our website, BirdNote.org. 
                                                                               ###
Sounds of Red-tailed Hawk 51214 provided by The Macaulay Library of Natural Sounds at the Cornell Lab of Ornithology, Ithaca, New York, recorded by L.J. Peyton.  European Starlings ambient from Martyn Stewart, naturesound.org.
Airport ambient recorded by J. Kessler
Producer: John Kessler
Executive Producer: Chris Peterson
© 2012 Tune In to Nature.org          February 2012     Narrator: Michael Stein
ID#          airport-02-2012-02-23