Image: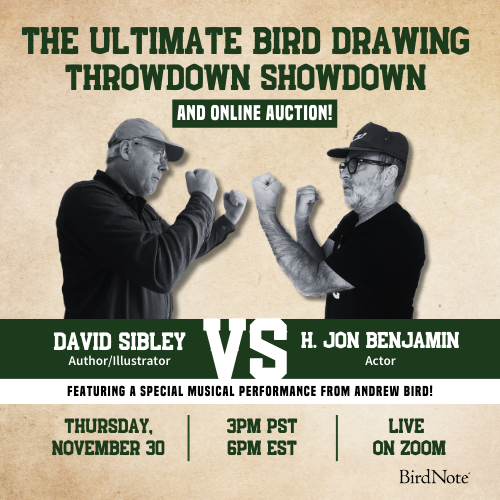 Join BirdNote tomorrow, November 30th!
Illustrator David Sibley and actor H. Jon Benjamin will face off in the bird illustration battle of the century during BirdNote's Year-end Celebration and Auction!
One of the world champions of long-distance migration is the Arctic Tern. Arctic Terns nest across the far northern reaches of the continent during our summer, then fly south to Antarctica for the rest of the year. Some will circle the polar ice-pack before heading north again, completing a total round trip of more than 50,000 miles. Every year.
BirdNote®
Rivers of Birds - Arctic Tern
Adapted from a script written by Frances Wood

This is BirdNote.

[Sounds of migrating birds]

Imagine yourself in the stratosphere, looking down on North America. In spring and fall, you'll see what look like huge "rivers" of ducks, seabirds, shorebirds, raptors, and songbirds. Migrants are moving along the four major North American flyways. In the spring, these "rivers" of birds flow north. At the end of the breeding season, the "rivers" flow south.

After spending the winter in the southern tier of states or Central America—or even as far away as South America—millions of birds return each spring to the northern latitudes. One of the world champions of long-distance migration is the Arctic Tern. [Calls of Arctic Terns]

Arctic Terns nest across the far northern reaches of the continent during our summer, then fly south to Antarctica for the rest of the year. Some will circle the polar ice-pack before heading north again, completing a total round trip of up to 50,000 miles. Every year. [Calls of Arctic Terns over the sound of ocean waves]

You can see a map of this amazing migration. Begin at our website, BirdNote.org. I'm Mary McCann.

###

Sounds of the migrating geese provided by Martyn Stewart at Naturesound.org.
Call of the Arctic Tern used with permission from Kevin Colver from the Field Guide to Bird Songs, Western Region.
BirdNote's theme music was composed and played by Nancy Rumbel and produced by John Kessler.
Producer: John Kessler
Executive Producer: Chris Peterson
© 2019 Tune In to Nature.org      March 2019/2022     Narrator: Mary McCann

ID # 031505ARTE ARTE-02c 2009-03-16-ARTE-02