Image: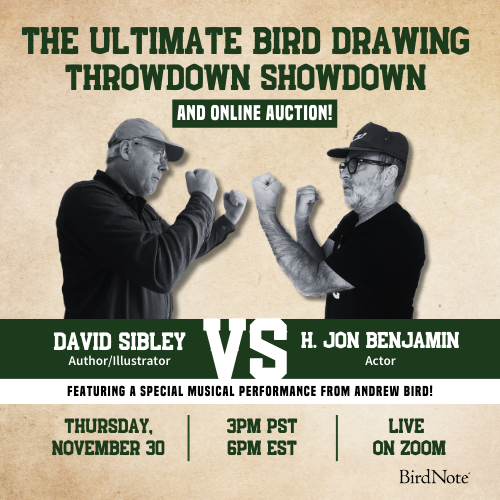 Join BirdNote tomorrow, November 30th!
Illustrator David Sibley and actor H. Jon Benjamin will face off in the bird illustration battle of the century during BirdNote's Year-end Celebration and Auction!
Screech-owls are opportunistic diners. In the Pacific Northwest, they'll prey on small birds, crayfish, large ants, or earthworms. In Arizona, pocket mice and pack rats. And in Ohio, biologists who noticed a fishy smell around Eastern Screech-Owl nest boxes found the remains of dozens of shad. It's clear that screech-owls may be a consistent nocturnal predator on fish, especially in cooler months, when other prey are dormant.
Gotta feed those hungry owlets!
BirdNote®
Screech-Owls Go Fishing
Written by Bob Sundstrom

This is BirdNote.

In 2011 biologist Bret Harvey wanted to study which predators might be nabbing trout from a California stream. So he tethered small, live trout on fishing line, turned on his cameras, and let nature take its course. Most of the predators caught on camera were the usual suspects: kingfisher, heron, otter, raccoon. But one was a stunning surprise.
[Western Screech-Owl trill, http://macaulaylibrary.org/audio/63001, 0.30-.33]

The Western Screech-Owl, a small owl—about 8 inches high—of western forests. They were videoed snatching the hapless trout in their talons. And it wasn't a random occurrence. In this particular study, of all the trout predators, only kingfishers snagged more fish.

It turns out screech-owls are opportunistic diners. In the Pacific Northwest, they'll prey on small birds, crayfish, large ants, or earthworms. In Arizona, pocket mice and pack rats. While in Ohio, biologists that noticed a fishy smell around Eastern Screech-Owl nest boxes found the remains of dozens of shad. Further evidence that screech-owls may be a consistent nocturnal predator on fish. Especially in cooler months, when other prey are dormant. 

But if there's a prize for screech-owl hunting, it must go to one individual in Idaho, which managed to stuff an entire one and a half pound rabbit into its nest box. Pretty good for an owl that weighs in at around six ounces.

For BirdNote I'm Michael Stein.

###

Bird sounds provided by The Macaulay Library of Natural Sounds at the Cornell Lab of Ornithology, Ithaca, New York. Western Screech-Owl [63001] recorded by David S Herr.
Water ambience track 018 Stream Moderate from Nature Essentials by Gordon Hempton at QuietPlanet.com
BirdNote's theme music was composed and played by Nancy Rumbel and John Kessler.
Producer: John Kessler
Executive Producer: Dominic Black
© 2015 Tune In to Nature.org     December 2017/2020 / November 2022       Narrator: Michael Stein

ID#  WESO-EASO-01-2012-12-14        WESO-EASO-01

Sources: trout fishing https://birdsnews.com/2013/9-screech-owl-secrets-revealed-fishing-nest-…

Prey, including rabbit: Birds of North America online: http://bna.birds.cornell.edu/bna/species/597/articles/foodhabits