Image: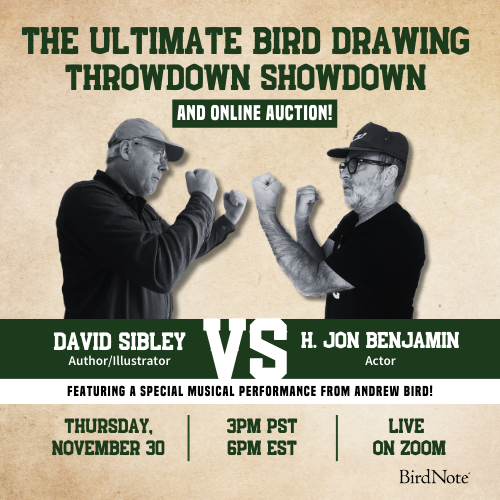 Join BirdNote tomorrow, November 30th!
Illustrator David Sibley and actor H. Jon Benjamin will face off in the bird illustration battle of the century during BirdNote's Year-end Celebration and Auction!
April is National Poetry Month in the United States, and to celebrate, we're featuring some of our favorite poets who write about our feathered friends. Today, in this extended podcast, we're sharing the work of poet Sidney Wade, professor emeritus at the University of Florida. Her most recent collection of poems is called Bird Book and is entirely poems about birds.

This show is made possible by Jim and Birte Falconer of Seattle, Idie Ulsh, and the Horizons Foundation.
BirdNote®  
Sidney Wade "Blue"
Written by Mark Bramhill

MS: This is BirdNote.

April is National Poetry Month in the US, and to celebrate, we're featuring some of our favorite poets who write about our feathered friends. Today, we're sharing the work of poet Sidney Wade, professor emeritus at the University of Florida. Her most recent collection of poems is called Bird Book, and is entirely poems about birds. She's been an avid birdwatcher for about eleven years now, ever since tagging along with her local Audubon group:

SW: I remember very clearly the moment it happened. The group leader managed to find a small bird called a Northern Parula and it's extraordinarily beautiful. They usually hang out in the very tops of trees, and so unless you're looking for them, you just won't see them. And when I finally got this little bird in my binoculars, I started screaming "It's so beautiful. Oh my God, it's so beautiful!"

When you get a spectacular looking creature in your binoculars, it looks like you're standing right next to it. You just lose yourself. It's it's a very zen kind of an experience. You're no longer there. It's a really beautiful experience.

MS: Since first spotting that Northern Parula, Wade has learned a lot about birds. But for even a lifelong birder, there are days where you learn something new and entirely unexpected. Here's Sidney with a poem about one such encounter with a Double-crested Cormorant:

SW: Blue
 
The great blue
song of the earth
is sung in all
the best venues—
treetop, marsh,
desert, shore—
and on this spring
day in the wetlands
where, under
a late sun,
we stand alone
and in love
with each other
and the passing day
we watch a cormorant
whose eye is ringed
in blue diamonds,
a shimmering lure,
and we love this blue
and this dark bird
and this deepening sky
that pinks and hums
in the west, and then

the bird opens his beak
and flutters his throat
and the late
afternoon light
illuminates
the inside tissue
of his mouth
which is as blue
as his ocular jewelry,
as blue as the bluest
ocean, as blue
as the sky in all
its depth, as blue
as the back of the small
and determined beetle
who struggles to roll
his enormous dung ball
in his own breeding bid
to enchant another
small blue miracle.

MS: Sidney had this discovery at one of her favorite birding spots, Sweetwater Wetlands Preserve near her home in Gainesville, Florida:

SW: There are tons of cormorants out there. And they get this beautiful sapphire ring around their eye — and I had not known that the inside tissue of their mouths their beaks turns blue as well.

And that's the first time I'd ever seen it. And the sun was just right, you know, its mouth was open and you could look right into this blue gullet, which was just astonishing. It's just an astonishing color.

MS: Anyone who's been birding or even just marveled at the little brown birds in the backyard knows how beautiful birds can be. And Sidney Wade's writing captures that beauty on the page. Find a whole lot more of her poems about birds in her collection Bird Book. There's a link on our website, BirdNote Dot Org.
 
For BirdNote, I'm Michael Stein.

You're here because you love birds. Help BirdNote share that joy with everyone, every day, by becoming a monthly donor. Click donate at BirdNote.org.

###
 
Bird sounds provided by The Macaulay Library of Natural Sounds at the Cornell Lab of Ornithology, Ithaca, New York. ML196483 and ML 229129 recorded by B McGuire. XC 109881 A Spencer Xeno-canto Foundation.  
BirdNote's theme composed and played by Nancy Rumbel and John Kessler.
Producer: John Kessler;
Managing Producer: Jason Saul;
Editor: Ashley Ahearn;
Associate Producer: Ellen Blackstone;
Assistant Producer: Mark Bramhill.
© 2019 BirdNote   April 2019   Narrator: Michael Stein
 
ID# wades-01-2019-04-04     wades-01