Image: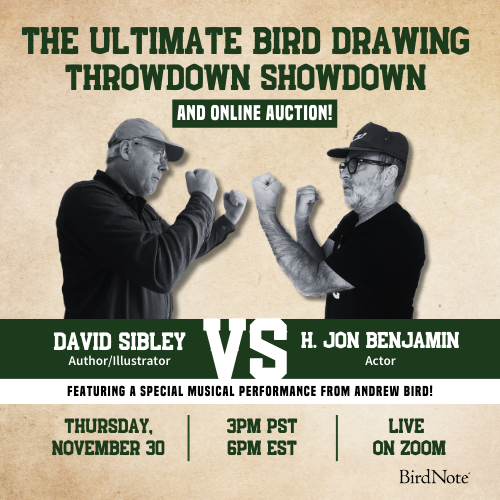 Join BirdNote tomorrow, November 30th!
Illustrator David Sibley and actor H. Jon Benjamin will face off in the bird illustration battle of the century during BirdNote's Year-end Celebration and Auction!
BirdNote writer and editor Todd Peterson recounts memories of wild places where he enjoyed fishing with his father, including the St. Joe River in the Bitterroot Mountains of northern Idaho and the Elk River near British Columbia's wild border with Alberta. The call of a loon is among the sounds that take him back to the wonder of the natural world and the joy of spending time with his father.
BirdNote®
Why I Fish
Written by Todd Peterson
This is BirdNote.
Today, a memory of summer in the midst of winter, from BirdNote writer Todd Peterson, titled 'Why I Fish.' [Music]
In the last light of a summer day, I am casting a dry fly to a few trout rising to make rings on the still water of a remote lake. A silver crescent moons rises. It's utterly still, quiet. As the darkness grows, trout begin to rise all around me and all across the lake. Bats dart through the air. Veiled clouds of midges drift across the water. A loon calls. The place is filled with life.

My father took me to places like this. And what places they were. The St. Joe River in the Bitterroot Mountains of northern Idaho, where the cutthroat trout hid in green depths of crystal water glinting with the flash of mica. The Elk River near British Columbia's wild border with Alberta, where we listened to the hermit's tales of crossing the Rocky Mountains in winter. And Pend Oreille Lake where the silver-sided Kokanee were so abundant the limit was fifty.

My father is gone now. But being in the places where wild fish live brings me again into his presence. The man who gave me life. [Music fades]
 ###
Featured music 'The Beatitudes' from 'Music of Vladimir Martynov' performed by the Kronos Quartet. 
2012 Nonesuch Records, Warner Music Group 
BirdNote's theme music was composed and played by Nancy Rumbel and John Kessler
Producer: John Kessler
Executive Producer: Dominic Black
© 2015 Tune In to Nature.org    February 2015   Narrator: Mary McCann
ID#     petersont-fishing-01-2015-01-02petersont-fishing-01