Image: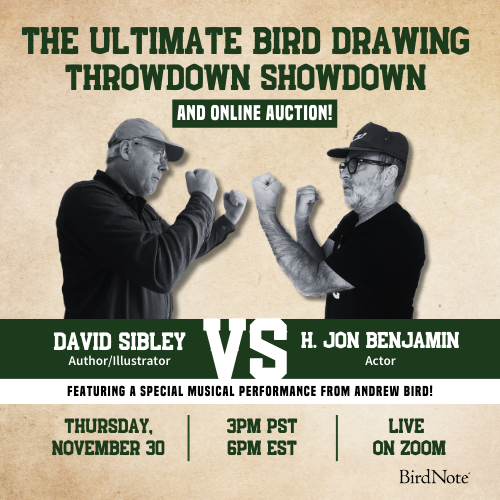 Join BirdNote tomorrow, November 30th!
Illustrator David Sibley and actor H. Jon Benjamin will face off in the bird illustration battle of the century during BirdNote's Year-end Celebration and Auction!
The late Yogi Berra, renowned New York Yankees catcher, is sometimes remembered less for his exceptional play and more for his turns of phrase. One of which was reported as, "You can observe a lot by just watching." When it comes to observing birds such as this Golden-crowned Kinglet, Berra was right on the money. To give yourself the best chance to watch nature unfold, pick a spot outdoors and sit quietly for 15 minutes. Now you're part of the background. The birds will likely return to singing, to perching in the open, to flying just above your head.
BirdNote®

Yogi Berra Observed a Lot

Written by Bob Sundstrom

This is BirdNote.
[Sounds of baseball game]
The late Yogi Berra, renowned New York Yankees catcher of the 1950s and '60s, was a baseball legend. He was an all-star for 15 of his 19 years in the majors, but he's sometimes remembered less for his exceptional play and more for his turns of phrase. One of which was reported as, "You can observe a lot by just watching."
Which, when it comes to observing birds, is right on the money.
Let's try it out. To give yourself the best chance to watch nature unfold, to really be immersed, pick a spot outdoors and sit quietly, patiently, for 15 or 20 minutes. Sit still. Listen. This may allow the birds and other creatures to return to what they were doing before you arrived. Now you're just part of the background. [Forest bird song ambient] The birds will likely return to singing, to perching in the open, to flying just above your head.
Within what seems like a comically redundant Yogi-ism, there lies a kernel of wisdom. "You can observe a lot by just watching."
    It seems a small thing. But as Yogi also once remarked, "Little things are big."
[Forest bird song ambient]
For BirdNote, I'm Michael Stein.
                                                                               ###
Bird sounds provided by The Macaulay Library of Natural Sounds at the Cornell Lab of Ornithology, Ithaca, New York. Sounds of baseball game recorded by John Kessler.
BirdNote's theme music was composed and played by Nancy Rumbel and John Kessler.
Producer: John Kessler
Executive Producer: Sallie Bodie
© 2016 Tune In to Nature.org   October 2016 / 2020   Narrator: Michael Stein

ID#                 berray-01-2016-10-27    berray-01