Image: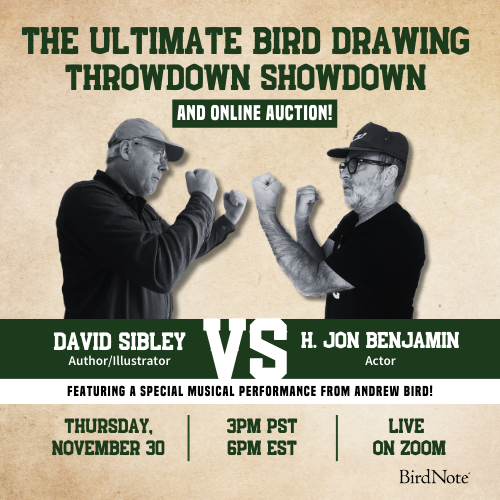 Join BirdNote tomorrow, November 30th!
Illustrator David Sibley and actor H. Jon Benjamin will face off in the bird illustration battle of the century during BirdNote's Year-end Celebration and Auction!
A movie runs at 24 frames per second, just right for humans to sense as normal speed. Pigeons process the visual world several times faster. The frantic car chase that puts us at the edge of our seats would likely appear—to a pigeon—more like a slideshow or PowerPoint. A bird's rapid-fire perception is vital to its staying alive, whether it's hunting fast-moving prey or eluding speedy predators. From the pigeon's perspective, humans live in the slow lane.
BirdNote®
You Could Take a Pigeon to the Movies...
Written by Bob Sundstrom
 
This is BirdNote.

[sound effects suggesting a movie theater]

You could take a pigeon to the movies. And, being a pigeon, it would certainly enjoy the popcorn.

[Rock Pigeon flapping, then calling, https://macaulaylibrary.org/asset/167946961#_ga=2.4163696.1502895711.15…, 0.02-.05]

But the movie? Probably not. Because a movie made for humans would look — to a pigeon — more like a series of still images.

See, movies run at 24 frames per second, just right for humans to sense as normal speed. But pigeons, like other birds and small mammals, process the visual world several times faster. So where we see a "moving picture," pigeons would see the individual frames of a film in slow motion.

[Screeching sounds of a car chase cross fade under next track with slow "ka-chunk ka-chunk" of a slide show progression]

So, that fast-paced car chase that puts us on the edge of our seats... is really more like a slow, boring slideshow — or PowerPoint — for a pigeon.

[Sound of the ka-chunk ka-chunk of a slide show progressing]


A bird's rapid-fire perception helps it stay alive, whether by hunting fast-moving prey or eluding speedy predators.

[Rock Pigeon flapping, https://macaulaylibrary.org/asset/167023011#_ga=2.126271821.1502895711…, 0.03-.05]

From the pigeon's perspective, we humans live in the slow lane.

[Rock Pigeon calls, https://macaulaylibrary.org/asset/3891#_ga=2.25012474.1502895711.156357…, 0.04-.-08]

For BirdNote, I'm Ashley Ahearn.

         ###
Producer: John Kessler
Executive Producer: Sallie Bodie
Editor: Ashley Ahearn
Associate Producer: Ellen Blackstone
Assistant Producer: Mark Bramhill
Bird sounds provided by The Macaulay Library of Natural Sounds at the Cornell Lab of Ornithology, Ithaca, New York. ML167023011 flapping recorded by Paul Marvin. ML3891 cooing recorded by James Kimball. ML69278 recorded by A. Priori.
BirdNote's theme was composed and played by Nancy Rumbel and John Kessler.
© 2020 BirdNote   April 2020/2022     Narrator: Ashley Ahearn
ID# ROPI-05-2020-04-03    ROPI-05
 
About pigeons' rapid visual processing: https://www.psychologytoday.com/us/blog/what-shapes-film/201406/why-you…