Image: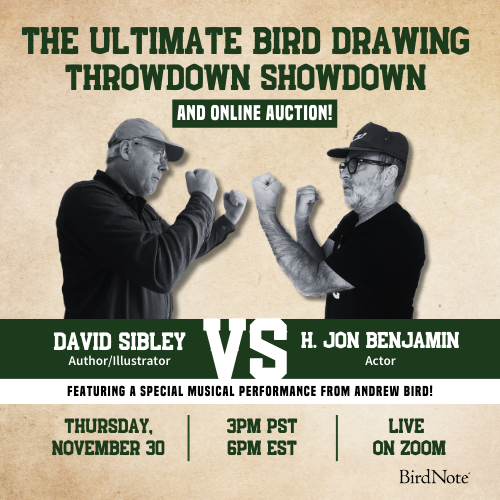 Join BirdNote tomorrow, November 30th!
Illustrator David Sibley and actor H. Jon Benjamin will face off in the bird illustration battle of the century during BirdNote's Year-end Celebration and Auction!
Image:
Imagina que eres una ave con tu propio canto único. ¿Qué sentirías si escuchas a una ave de otra especie imitando tu canto a la perfección? El origen de esta imitación es el ave lira real, también conocida como el camaleón sonoro. ¡La ave lira real macho puede imitar cantos de otras aves tan bien que logra convencerlas de que es una de ellas! 
Listen to this episode in English here. 
Esto es BirdNote. 
[Ave Lira Real]
Imagina que eres un ave con un canto único. Te sorprenderás al escuchar tu propia canción repetida de vuelta con casi completa precisión, por un ave completamente diferente a tu especie. El origen del eco viene del camaleón de sonido conocido como el ave lira real. 
[Ave Lira Real]
Lo pueden encontrar en los bosques australianos, y el ave lira real macho puede imitar canciones suficientemente bien para convencer al ave que están imitando de que es uno de ellos.
Aquí está su imitación de una cacatúa fúnebre coliamarilla. Primero escucharán al ave imitada, y luego al ave lira real.
[Ave Lira Real y Cacatúa Fúnebre Coliamarilla]
Un verdugo pío.
[Ave Lira Real y Verdugo Pío]
Una cucaburra común.
[Ave Lira Real y Cucaburra Común]
E incluso una zordala crestada oriental.
[Ave Lira Real y Zordala Crestada Oriental]
El ave lira real es uno de los mejores mimos de la naturaleza, ¡un dictáfono vivo! Mientras que los machos cantan para atraer compañeras, las hembras imitan los cantos de los depredadores, ¡lo cual puede ayudar a asustar a otras aves alrededor!
Este ave en zoológicos puede incluso imitar sonidos mecánicos como alarmas de carros, motosierras, y sonidos de construcción. La BBC grabó a un ave lira real imitando el sonido de una cámara fotográfica.
    [Ave Lira Real: sonido de una cámara fotográfica]
    David Attenborough: That was the camera shutter.

¡Qué timador!
Para BirdNote, soy Camilo Garzón.
###
Senior Producer: John Kessler
Content Director: Allison Wilson
Producer: Mark Bramhill
Managing Producer: Conor Gearin
Script Editor: Camila Kerwin from the Rough Cut Collective
Bird sounds provided by The Macaulay Library of Natural Sounds at the Cornell Lab of Ornithology, Ithaca, New York. Superb Lyrebird ML 463586881 recorded by J. Holmes, Superb Lyrebird ML 464114981 recorded by T. and D. Broughton, Yellow-tailed Black Cockatoo ML 31676591 recorded by A. Spencer, Pied Currawong ML 167655181 recorded by H. Mirando, Laughing Kookaburra ML 233546 recorded by V. Powys, and Eastern Whipbird ML 74536481 recorded by C. Burwell. 
BirdNote's theme was composed and played by Nancy Rumbel and John Kessler.
© 2022 BirdNote  September 2022         
Narrator: Camilo Garzón