Image: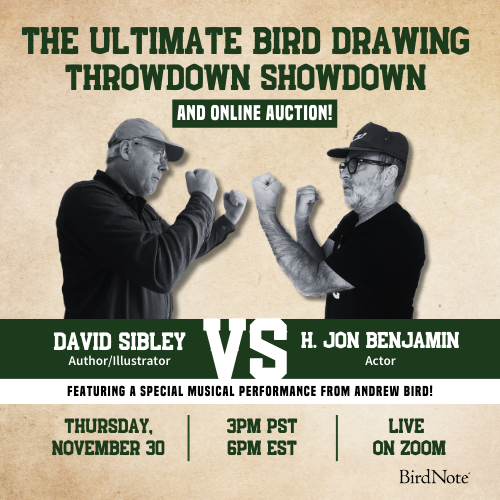 Join BirdNote tomorrow, November 30th!
Illustrator David Sibley and actor H. Jon Benjamin will face off in the bird illustration battle of the century during BirdNote's Year-end Celebration and Auction!
Image:
La idea de trabajar con aves como el falaropo a Marina Castellino le vino de su hermana mayor, Marcela. Cuando eran pequeñas, Marina buscaba cualquier excusa para pasar tiempo con su hermana y crear historias imaginarias sobre la vida en el campo. La pasión de su hermana por las aves playeras era contagiosa. Marina adoptó esa pasión y luego se unió a esfuerzos de protección como los de Manomet, donde trabaja actualmente. 
Listen to this show in English here!
Esto es BirdNote. 
[Laguna Mar Chiquita, Xeno Canto 272748]
Marina Castellino: Creo que no sé qué dirán las demás personas que sean hermanos menores, pero en general, siempre para mí pasar tiempo con mis hermanas es genial. 
La inspiración de trabajar con aves como el falaropo para Marina Castellino, quien trabaja en conservación del ave playera, vino en la forma de su hermana mayor, Marcela. Desde pequeña fue encontrando excusas para pasar tiempo con su hermana y poder acompañarla creando juntas bellas historias de campo. 
Marina Castellino: Nos hemos olvidado parte de la comida al llegar al campo y tener los panes para hacer un sándwich sin nada para poner en el medio que nos hemos reído de eso nos agarrado la subida todo tipo de tormentas. Nos hemos quedado en el barro con distinto tipo de vehículos.
Esto también guió a que Marina se adentrara en proyectos de conservación, incluyendo los esfuerzos de Manomet para ayudar a las aves playeras en Mar Chiquita, Argentina.
[Correlimos Culiblanco, ML 32242591]
Marina Castellino: Recientemente el lugar fue declarado como Parque Nacional y Reserva Nacional, hace nos has es un lugar único en el mundo.
Esto ayudará a pájaros y aves tales como los correlimos que migran entre las orillas de sur y norteamérica. Así que si ven a un correlimos cerca de ustedes, ¡los esfuerzos de Marina pueden haber ayudado a que los vean ahí!
Marina Castellino: Pensá hemisférico, actúa local.
Así es que podemos trabajar juntos para conservar estos lugares y especies.
Este episodio es parte de una serie sobre las investigaciones de conservación de aves playeras lideradas por Manomet y también está disponible en inglés —visiten nuestra página web, BirdNote punto org, para aprender más. Soy Camilo Garzón.
###
Senior Producer: John Kessler
Content Director: Allison Wilson
Producer: Mark Bramhill
Managing Producer: Conor Gearin
Script Editor: Camila Kerwin from the Rough Cut Collective
Bird sounds provided by The Macaulay Library of Natural Sounds at the Cornell Lab of Ornithology, Ithaca, New York. Soundscape Xeno Canto 272748 recorded by P. Boesman, and White-rumped Sandpiper ML 32242591 recorded by A. Spencer.
BirdNote's theme was composed and played by Nancy Rumbel and John Kessler.
© 2022 BirdNote   September 2022         
Narrator: Camilo Garzón