Image: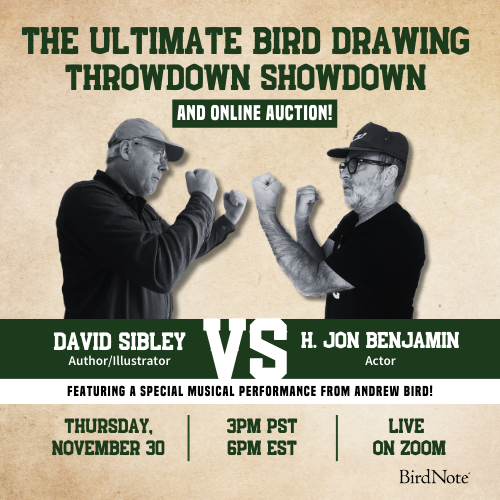 Join BirdNote tomorrow, November 30th!
Illustrator David Sibley and actor H. Jon Benjamin will face off in the bird illustration battle of the century during BirdNote's Year-end Celebration and Auction!
Last year, Tenijah Hamilton discovered her love of birds – and found out that birds are in trouble. On a mission to help bring birds back, Tenijah joined bird enthusiasts from different backgrounds, identities, and communities to learn and share simple, everyday actions people can take to help the birds that bring us all joy. Follow Tenijah's journey as Bring Birds Back returns for a second season on May 18th -  she brings more tips and helpful information about what we can do to make the world a better place for birds and humans.
 
Tenijah Hamilton: How often do you get to, like, talk about birds?
Tracy Clayton: You mean talk about birds and have people listen to me and maybe enjoy it? Not very often.
[Music in]
Tenijah Hamilton:Hey everyone, it's Tenijah Hamilton, here with a new season of Bring Birds Back from BirdNote.
I've been talking to some amazing people. And let me tell you, I've been learning a lot.
Like, how to be a better birder…
Martha Harbison:You should treat the birds and the habitats that they use with respect, and you should also treat your fellow birders with respect.
Tenijah Hamilton:How to find community in the outdoors, and what it means to feel like you belong…
Kasia Chmielinski: I think you can say the converse too, which is: if you don't see a group where you think you're going to belong, you won't join.
Freya McGregor: Birding is for everybody. Every kind of body. And everybody benefits from feeling welcome and included. 
Tenijah Hamilton:And, of course, more ways we can all help our feathered friends:
Kelly Applegate: As a tribal member, we try to plan for our next seven generations. And I would enjoy nothing more than to know that this species will be around for our future generations.
Caroline Brewer: We are in a fight to save our only home. This is not only the only home for wildlife, it's the only home for humans. 
Tenijah Hamilton:There's all of that and more in season two of Bring Birds Back. The season premieres on May 18th, with new episodes every Wednesday. We've got eight episodes to bring us closer to nature, to each other, and to bringing our bird friends back.
Follow the show in your favorite podcast app; just search for "Bring Birds Back." Or listen on our website, BirdNote.org. Talk to ya soon!
[Music out]
Ashley C. Ford: "Oh, I got bit by a goose when I was five." And it's like, yeah, that's really sad. But like, I'm not scared of no goose!
Tenijah Hamilton: You said that just like a Ghostbuster. Like "I ain't afraid of no goose!" It was beautiful.