Image: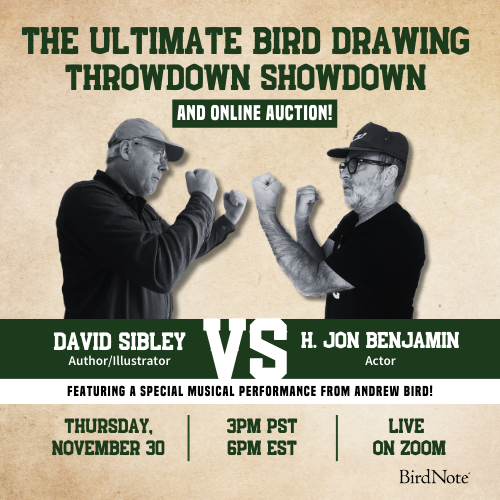 Join BirdNote tomorrow, November 30th!
Illustrator David Sibley and actor H. Jon Benjamin will face off in the bird illustration battle of the century during BirdNote's Year-end Celebration and Auction!
The BirdNote 2019 Annual Report
People like you who care deeply about birds — and value our conservation mission — make it possible to produce BirdNote. Thank you!

BirdNote is free and accessible to all (including radio stations) thanks to the support of individuals, foundations, and businesses. Learn how your contributions helped BirdNote reach millions of people in 2019.
The Daily Show
BirdNote offers an inspiring two-minute show 365 days a year. It's accessible to listeners through multiple distribution channels:
On the air: find a

station

near you.

Online: stream directly from the

BirdNote website

.

Podcast: subscribe 

here

.

Ask Alexa or Google Assistant to play BirdNote.

Through social media:

Subscribe to our

email newsletter

that delivers shows for the upcoming week.
Special thanks to the Bobolink Foundation for supporting production of new daily shows in 2019.
Special Series and Podcasts
Sound Escapes: This seven-part series is a crash course in the art of truly listening — something acoustic ecologist Gordon Hempton says is a dying art as human noise overtakes the sounds of nature. Listeners who participated in our Sound Escapes survey indicated the series deepened their appreciation for the natural world, their knowledge of birds, and their understanding of the challenges birds face. To date, Sound Escapes has been downloaded nearly 145,000 times.

The first season of Sound Escapes was produced with generous support from Jim and Birte Falconer of Seattle, Idie Ulsh, and the Horizons Foundation.
 
Poetry Month: Artists often express the wonders of the natural world — and our complex relationship with it — through birds. This series invites BirdNote listeners to experience the transformative power of poetry through the work of Traci Brimhall, Mary Oliver, and Sidney Wade.
 
Finding Home in Nature: BirdNote host Ashley Ahearn caught up with BirdNote board member Dr. J. Drew Lanham at the University of Washington College of the Environment Symposium on Nature and Health in the fall of 2019. Their conversation weaves through Dr. Lanham's poetry and readings from his memoir to his thoughts about history, nature, faith, climate change, the loss of birds, and the ways we can work together to confront racism.
 
Wingspan Takes Flight: BirdNote's Mark Bramhill reports on the board game Wingspan and its surprising impact. Wingspan won the Kennerspiel des Jahres (German for "Connoisseur's Game of the Year") — the board-game equivalent of winning best picture at the Oscars.
Next Generation
The BirdNote Next Generation program recognizes the vital role of youth in a sustainable future for all. Next Generation awards grants to environmental educators to incorporate BirdNote media into their curricula. The program completed its three-year pilot period in 2019. Stories and lesson plans are freely available to teachers, media outlets, and anyone interested in environmental education for youth.

Spring Creek Prairie Audubon Center in Lincoln, Nebraska, is among the 2019 grantees. Next Generation funds supported the Bird Brains summer camp program, which engaged 151 youth in more than 3,000 hours of learning about the tallgrass prairie and its importance to birds. "BirdNote resources, stories, and activities started and ended each day of camp and brought bird conservation to a fun and personal level for all the campers," says Jason St. Sauver, director of education and outreach.

Meet all of the 2019 grantees and learn about their programs.
The Next Generation program also supports the development of inspiring media for a multi-generational audience. In 2019, BirdNote distributed a new video, "Look Up," about a family passing down the tradition of falconry.

Support for Next Generation comes from the Falconer Family of Seattle, the Bobolink Foundation, the Treeline Foundation, and the Peg and Rick Young Foundation.
Special Projects
Website upgrade:BirdNote.org is our most important tool for reaching and educating people with messages of inspiration and hope, especially at this critical time for birds and the environment we share. In fact, website visits increased by 52% in 2019 compared to 2017.

Thanks to the generosity of the BirdNote community, we quickly raised $100,000 for our website overhaul. Since then, BirdNote has been working with Kanopi Studios in collaboration with Cognition Studios to create a website that offers inspiring information, captivating shows, and stunning images on any device. Given the expansion of BirdNote's programming and digital audience, the new website will serve as a significant distribution channel that reaches listeners worldwide.
 
Special thanks to Sarah Merner & Craig McKibben and Jerry Tone & Martha Wyckoff for providing matching funds for the website campaign.
 
#BringBirdsBack: On September 19, 2019, the journal Science released a shocking report about the steep decline of North American birds. The #BringBirdsBack movement emerged in response to this news, and BirdNote has joined the effort. BirdNote is perfectly positioned to educate the public about the crisis, to offer hope, and to inspire people to get involved. Any time you see #BringBirdsBack in BirdNote communications — including emails, blogs, photo essays, and social media posts — please take a moment to share the message with your network!
 
BirdNote is grateful to the Horizons Foundation for supporting BirdNote's participation in this initiative.
 
BirdNote Field Journal: Sasquatch Books released this birdwatcher's companion during fall 2019, just in time for the holiday giving season. The journal pages are interspersed with practical and inspiring advice for birders along with beautiful color illustrations by Emily Poole. The field journal complements BirdNote, the book, and BirdNotes note cards, also published by Sasquatch books and illustrated by Emily Poole.
 
Library of Congress: The American Archive of Public Broadcasting (AAPB), a collaboration between the WGBH Educational Foundation and the Library of Congress, invited BirdNote to contribute our entire collection to the archive. This project will make more than 1,500 stories — complete with transcripts and audio files — available to scholars, researchers, educators, students, and the general public, whether at the library or streaming from the AAPB website.
2019 Funding Snapshot
Operating Revenue: $870,563
Individual Contributions: $751,933 (86%)
Foundation Grants: $86,207 (10%)
Corporate Underwriting: $17,450 (2%)
In-kind Support: $2,419 (<1%)
Sales and Other Income: $12,554 (1%)
  Operating Expenses: $680,469
Managing and Building the Organization: $357,255 (52%)
Telling Stories: $284,206 (42%)
Outreach: $36,589 (5%)
In-kind Expenses: $2,419 (<1%)
BirdNote's programming is made possible by hundreds of individuals, foundation supporters, and corporate underwriters, including American Bird Conservancy, the Cornell Lab of Ornithology, Port Aransas Chamber of Commerce, and Sasquatch Books. Sales of the BirdNote calendar, income from adventure travel, and royalties from BirdNote, the book, provide a small percentage of annual revenue.
Special Recognition
We are deeply grateful to each of our donors for your support and belief in our mission and to the following program partners:

Audubon, for sharing BirdNote stories online, through social media, and in Audubon magazine.

BirdNote's contributing photographers, who freely share their images for use on our website, in social media, and in other communications.

Cognition Studio, for in-kind contributions of web and design services, and to Kristine Johnson for serving as design advisor for the new BirdNote website.

E3 Washington, for collaborating with BirdNote on the implementation of the Next Generation program.

KNKX, BirdNote's flagship radio station, along with more than 200 stations and outlets in North America, for sharing our programs.

The Macaulay Library of the Cornell Lab of Ornithology, for providing most of the bird sounds featured in BirdNote shows.

Sasquatch Books, for publishing the BirdNote Field Journal, BirdNote, the book, and BirdNotes note cards.

Victor Emanuel Nature Tours, for serving as BirdNote's adventure trip outfitter.

Mark Wittow of K&L Gates LLP, for pro bono counsel on legal and intellectual property matters.
Thank you!
Your support for BirdNote makes our programming accessible to all, free of charge, to advance our conservation mission:
Birds connect us with the joy and wonder of nature. By telling vivid, sound-rich stories about birds and the challenges they face, BirdNote inspires listeners to care about the natural world – and take steps to protect it.
BirdNote Team
Meet our staff, board members, volunteers, and other team members.
 
BirdNote Conservation Partners
Connect with BirdNote's partners and get involved in conservation.
 
Contact BirdNote
Drop us a line!

Support BirdNote
Inspired to make a gift? Donate securely and easily.
IMAGES:
Osprey
Prothonotary Warbler
Double-crested Cormorant
Northern Gannets
Rusty Blackbird
Atlantic Puffins
Wood Duck
Mourning Dove
Burrowing Owl
 © Owen Deutsch

Rodney Stotts and Harris's Hawk 
© Amanda Kowalski