Image: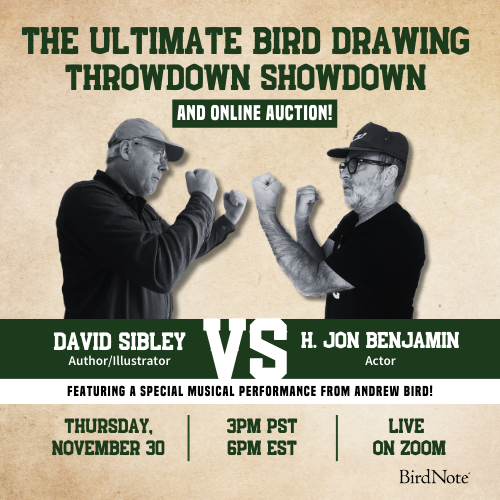 Join BirdNote tomorrow, November 30th!
Illustrator David Sibley and actor H. Jon Benjamin will face off in the bird illustration battle of the century during BirdNote's Year-end Celebration and Auction!
Like migratory birds, the dances of North America travel from nation to nation. Beautifully colored songbirds may breed in the far north, but they winter in Central and South America. During a Zumba class, Heather Murphy realized this combination of dance, music, and culture might be used to attract the broader community to birds and nature. So she and Zumba instructor, radio host Rhona Baron created the Dancing with Birds curriculum for schools. You can download the material including posters, soundtracks, and videos – much of it in Spanish – for your own class.
BirdNote®

Birds and Dance Connect Cultures -
Dancing With Birds
A tribute to its creators, Heather Murphy and Rhona Baron

 This is BirdNote!
 [Merengue from Dancing With Birds]
 Imagine creating Latino-inspired dance to celebrate birds such as the tiny Calliope Hummingbird, the Long-billed Curlew – a stately shorebird – or the gorgeous Western Tanager. At this time of year, these birds and others are winging their way north from Mexico. For students and adults alike, dance can pay tribute to the birds' beauty and fortitude.
 [Merengue with trumpets]
 While having fun exercising in a Zumba class, wildlife biologist Heather Murphy realized she was experiencing a combination of dance, music, and culture that might be used to attract more Latino communities to birds and nature. So from there, she and Rhona Baron created Dancing With Birds – dance videos, sound tracks, posters for festivals, curriculum for schools. Here's Rhona, followed by Elsa Esparza:
[Merengue with Rhona's voice over]
[Like migratory birds, the dances of Latin America travel from nation to nation….] The Western Tanager is a beautifully colored songbird breeding far into Northwest Canada. You'll be lucky to spot this stunning bird, because the Western Tanager stays on its breeding ground for as little as only two months and is quite elusive.
[Elsa repeating in Spanish…]
Are you a teacher? Someone who likes to dance? Someone who loves how birds connect cultures? You can download the curriculum for Dancing With Birds, including posters, soundtracks, and videos – in English and Spanish. Begin at our website, BirdNote.org.
[Go out with merengue]
Merengue and voice-overs used with permission from Rhona Baron; Dancing With Birds.
Producer: John Kessler
Executive Producer: Chris Peterson
© 2014 Tune In to Nature.org    March 2014   Narrator: Mary McCann

ID#         dancingwithbirds-01-2012-03-09   
 
http://birdday.org/connectingcultures/dancing-with-birds/dancing-with-b…