Image: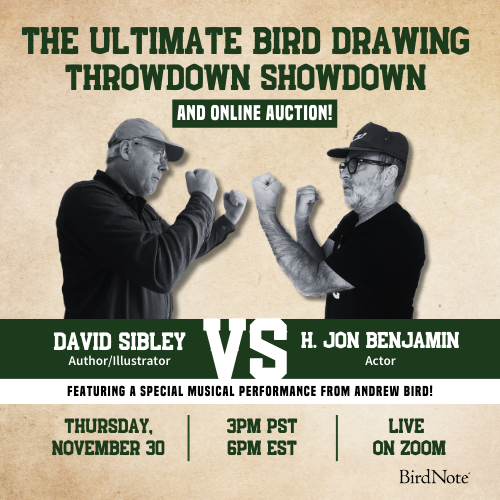 Join BirdNote tomorrow, November 30th!
Illustrator David Sibley and actor H. Jon Benjamin will face off in the bird illustration battle of the century during BirdNote's Year-end Celebration and Auction!
In this episode, Adé Ben-Salahuddin, an evolutionary biologist in training, reflects on how his connection with birds has changed over the years. The simple fact that birds are the only living dinosaurs left was what drew him to birds for a long time. He would share that fact with visitors on guided tours of the fossil collections at his local museum. During COVID, the museum closed for renovation, so Adé began working at a warehouse instead, surrounded by the sounds of whirring machines and beeping scanners. More recently, he has been visiting a local pond that hosts many species of birds and has developed an appreciation for them as living dinosaurs.
This week is Black Birders Week. Learn how to participate in Black Birders Week here and by following #BlackBirdersWeek on social media.
BirdNote®
Dinosaurs in the Here and Now
Written by Adé Ben-Salahuddin
This is BirdNote.
I'm Adé Ben-Salahuddin, and I'm an evolutionary biologist in training. 
    
    [Canada Goose calls, ML 147239721]
Birds are the only dinosaurs here now. As someone with a lifelong interest in paleontology, this simple fact was – for a long time – what drew me to birds. It was something I'd always tell people on guided tours of the fossil collections at my local museum.
 
But when everything shut down from COVID and the museum closed for a 3-year renovation, I began working at a very different place. [warehouse noises] Three to four nights a week for nearly a year, I'd spend twelve hours in a warehouse listening to the endless whirring of a labyrinth of conveyors and oversized Roombas carrying shelves full of merchandise.
    [warehouse noises]
 
One winter morning towards the end of my time at this company, I got off the bus and decided to walk past my house to an area where I knew there was a pond I'd never actually seen on foot. Barely tucked away from the noisy hustle of the city, a different chorus greeted me.
    
[Combine Canada Goose ML 147239721 with Red-winged Blackbird ML 84698]
 
I've returned to the area for over a year now, gradually learning the songs.  Sometimes I catch a glimpse of the performers; a dash of cardinal red [Northern Cardinal song ML 176241], a grackle's shimmering black [Common Grackle calls ML 217634421], the yellow flecks on a Cedar Waxwing [Cedar Waxwing calls ML 96926181]. 
I still think of their extinct cousins and hope to reunite with them in a few years at the museum. But I have a new appreciation for the dinosaurs around us, as they are, in the here and now.
 
For BirdNote, I'm Adé Ben-Salahuddin.
###
Senior Producer: John Kessler
Content Director: Allison Wilson
Producer: Mark Bramhill
Managing Producer: Conor Gearin
Bird sounds provided by The Macaulay Library of Natural Sounds at the Cornell Lab of Ornithology, Ithaca, New York. Canada Goose ML 147239721 recorded by B. Walker, Red-winged Blackbird ML 84698 recorded by W. Hershberger, Northern Cardinal ML 176241 recorded by G. Keller, Common Grackle ML 217634421 recorded by J. McGowan, and Cedar Waxwing ML 96926181 recorded by J. McGowan.
BirdNote's theme was composed and played by Nancy Rumbel and John Kessler.
© 2022 BirdNote      June 2022      Narrator: Adé Ben-Salahuddin
ID# dinosaur-03-2022-06-02    dinosaur-03